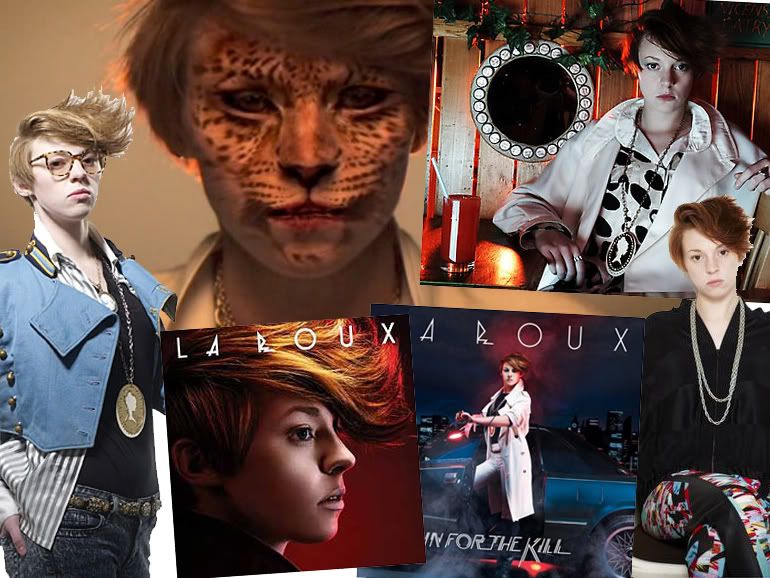 so, i don't think i've ever mentioned it here, but.. i kind of have a thing for redheads. i blame it on my friend taylor, a gorgeous girl with the thickest, reddest mane of hair, who's pretty much the embodiment of all things cool. my first megan encounter also occurred during a red phase, before she dyed her hair every other color under the sun. i can't really explain it - it just seems like all the gingers of the world are just inherently awesome.

in that vein, it's not surprising that molly ringwald as andie walsh in "pretty in pink" emerged as the frontrunner in my
style inspiration for summer
. it's even less surprising that i've discovered another member of the red party to act as the modern counterpart to the andie asthetic. i've been hooked on la roux since
susie bubble posted about them
in december (and revealed that she also has a redhead obsession!). the vocalist half of the band, née eleanor "elly" jackson, is one of those people whose wardrobe i desperately want to raid. there's definitely a discernible eighties influence, but it's never gimmicky, even if she's quite aware of the look she's channeling - "if you are going to be a pop star, do it properly, for fuck's sake," she says.
this article
is pretty quote-heavy, with lots of space dedicated to her shopping habits - no high street, plenty of vintage designer - and she's not a fan of lady gaga. amen. when is this girl touring in america?