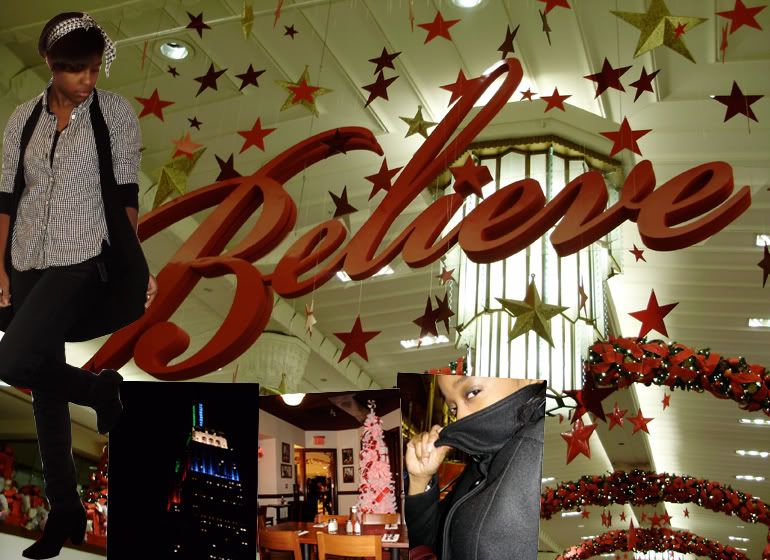 picture it. herald square, tuesday afternoon, the day before christmas eve.
the streets are teeming with tired shoppers. at macy's, the halls are decked and the aisles are packed, but i've chosen to focus our efforts here in the sprawl because i happen to have a macy's card and everything in the store is perpetually on sale. josie and i are armed with nothing but a little bit of plastic and a mission: finish christmas shopping without making any personal purchases. in the hours to come, josie will succeed in this mission while i fail miserably.


the damages: ralph lauren cashmere scarf (my dad's was so gorgeous and soft to the touch, i couldn't resist getting one for myself), victoria's secret pajamas, one pair of cream and brown wayfarer II's.

i never stood a chance. while we ran in circles looking for gifts, i kept spying this swoon-worthy pair of wayfarers that elicited all sorts of happy images in my brain.. old school cadillacs and road trips on route 66, and you all know how i feel about a good vintage vibe. i remarked in jest that if i ever got through my christmas list, i'd celebrate with those shades. hours later, i did just that. it was an absolutely unnecessary purchase, and i'm now an officially incorrigible consumer whore, but since the goods are already in my possession, let's bask for a minute in the glory and delight of these shades, shall we?
and that's that. now it's no sleep 'til brooklyn for me, as i'm off to spend christmas eve with family and open gifts at the stroke of midnight. have a safe and happy holiday!