the weather continues to indulge me with sunshine and clear skies, even if it keeps me permanently distracted from my studies. the other day, i sat for my senior portrait, a throughly cheesy affair, complete with cap and gown, fake diplomas, awkward poses and all. having turned in the first of my final papers, i celebrated the completion of the day by stopping in to the american apparel across the street from the photo studio.

i didn't wander in completely aimlessly - after reading refinery29's
swine flu
post, i knew i had to get my hands on the
super sheer circle scarf
. i have the regular version in olive, and it's been very good to me, but i can't tell you how many times i've wished that it was made out of something a bit lighter so as to lend itself to more options. i snagged the atlantic blue and i'm already a huge fan. i also spied a pair of glasses that's the closest thing i've seen so far to the glasses in "notorious" that i was
lusting after back in february
. i'm still contemplating going back for them
.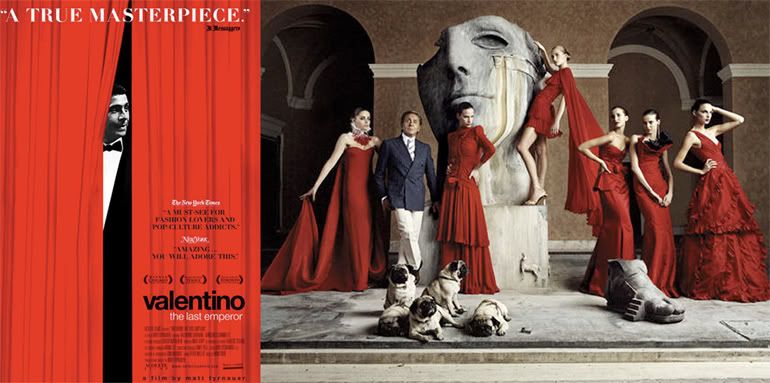 as i left the store, i planned to rush and catch a shuttle back to my house, but decided on a whim to stop at the theater in the square and see "valentino: the last emperor." i've been dying to see it forever, but when i hear 'limited release,' i typically assume that cambridge won't be included in that select number of theaters. still, i really dropped the ball on this one, considering the title had been displayed on the huge marquee for weeks before i noticed. the theater was practically empty, with the exception a couple of pairs of elderly women. i've only been to a movie alone once, for a press screening of "i love you, man," but i found the experience rather pleasant, so i was glad to do it again, especially for a film that most of my friends wouldn't really appreciate - i'd been asking around for a couple days and couldn't really find a willing participant.

i didn't expect to dislike it, but i was surprised by just how much of a reaction it evoked in me. it was more than a fashion geek's paradise, with glimpses of the valentino lifestyle, atelier and runway shows - i was delighted to spy the same silver mannequins and designs that blew me away in the "valentino, thèmes et variations" exhibit at the musée de la mode et du textile
last summer in paris
. it was also more than just an aesthetic feast for the eyes, with an endless supply of european urban landscapes and beautiful architecture. it was the strong relationships and the emotions attached to them that were the most potent aspect of the film. watching people melt into tears at the sight of a collection and valentino chum it up with karl lagerfeld were definitely some of the film's best moments for me. all in all, a lovely day - those others papers will get done eventually.
p.s.: as of last night (and a lot of hazing), i'm officially a writer for the harvard crimson!