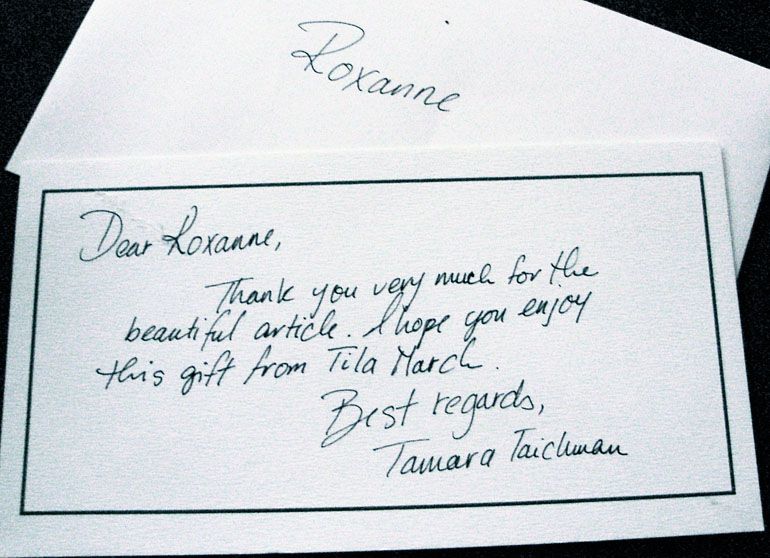 the blogging gods are
not
my friends these days. for starters, whenever i get home from my internship, i pretty much pass out until the next morning, leaving little to no time to post.. ever. secondly, my digital camera - less than a year old, mind you - has essentially quit on me.. no more flash, and grainy, poor quality pictures even in the daytime. but at the end of the workday, i was suddenly overcome by a can-do attitude, so here i am, dashing off a mini-post before sleep overtakes me yet again
.
since my camera butchered these visuals, i've included a company shot.
unlike the blogging gods, the internship gods seem to have taken a liking to me. i was stunned yesterday when my editor told me i had received a gift and handed me a white shopping bag. digging through the burgundy tissue paper, i pulled out an envelope with the sweetest message above from tamara taichman, designer of the impossibly chic
tila march
accessory line, whose fall '09 collection i wrote about on
the pipeline
a little while ago. when i wrote the article, i remember thinking, well, that it was impossibly chic.. as in impossible for me to attain. as i glanced over her words and spied a sliver of brown leather, i'm pretty sure i briefly went into shock. i continued to freak out as i pulled out an absolutely gorgeous bonnie bucket bag in moka.. i swear, i could have stared at that beautiful bag for the rest of the day. i consider myself a very lucky girl, indeed - thanks so much to tamara taichman at tila march!
full disclosure: i haven't been able to stop listening to the new broadway cast recording of hair since it came out. also, "let the sun shine in" seems like a very appropriate sentiment, considering this endless monsoon we're having in the city.