a stubbornly vibrating cell phone dragged me out of a weighty slumber at about noon today. i exchanged a glance with dylan through stinging, bleary eyes and envied him as he stood up, yawned, and stretched his furry limbs gracefully, leaping out of bed onto the floor. i attempted to rouse myself in similar fashion, cringed in pain, and immediately resumed my supine position, every muscle below my waist begging for mercy—blame it on the boogie
.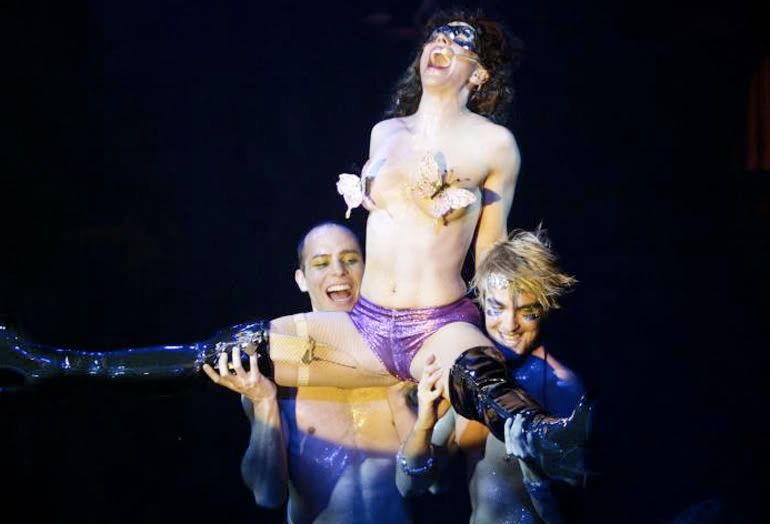 still, as i hauled myself out of bed and hobbled to the bathroom, i found myself scanning my mental calendar for the next opportunity to experience last night's festivities again. a few friends and i went out to the donkey show, a disco adaptation of a midsummer night's dream. and by disco adaptation, i mean a disco party. there were certainly remnants of the shakespearean tale, with mismatched love connections, potions, concoctions, and fairies, but it all played out to a steady stream of disco hits on the dance floor. four glittery, muscled men silently fawned over audience members, miming invitations to dance and spreading sparkle everywhere. as far as my outfit goes, hot pants unfortunately don't leave much room for storage, so i didn't have a camera on me. suffice to say, there was a black and gold lamé batwing blazer involved, which a face painted dr. wheelgood (puck) took a fancy to.
all in all, it was one of the best nights i've had in a long time, though i ran myself ragged dancing for hours in five-inch platform heels. as soon as i find an outfit to top the one i donned yesterday, i'll be back at club oberon in a heartbeat.