"maybe there is something the matter with me.. i just don't see how a world that makes such wonderful things could be bad."
-ariel

i just finished my written french final, so after an oral exam and finals in science and studies of women, gender and sexuality, for all intents and purposes, summer has finally begun. though i'm reluctant to harbor delusions of grandeur, i'm fairly positive that this summer is sure to be my best yet. my grant was finally approved a few days ago, so i can now say, without a doubt, that i will be turning twenty years old in paris. "a dream come true" doesn't even begin to describe this prospect. in the days leading up to and following my month in france, i'll be at home in new york with spending time with a great mix of friends from home and school. i love summer in new york city so much that i almost wish that i could go abroad in the fall, but i'll be vigorously making up for lost time while i'm there. i'll be working at a day camp where i've been employed for the past three years, and i'm excited to see how much my kids have grown and to see some new faces, as well. but at this very moment, the place that i'm absolutely dying to go to is walt disney world, that other place were dreams come true, though i couldn't tell you why.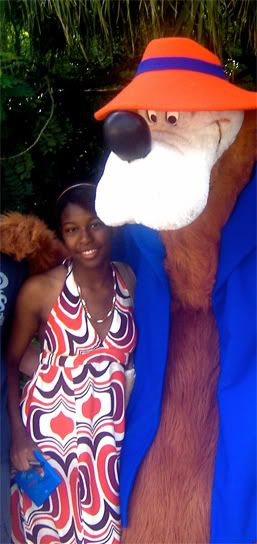 actually, i can tell you why: i'm a disney addict. it's kind of a problem. almost every summer, i simply pull the birthday card, declaring that there's nothing else that i want more than to go to disney world, and come july, my family is standing in front of cinderella's castle, for a third, fourth, fifth, seventh, and ninth time. i've actually lost count of how many times i've been there, though i'm sure the number hovers somewhere below my age. in my senior year of high school, i decided that it was necessary for my scholars science class to take a trip to disney world, even though the program had never even taken a trip to six flags before. i researched the options and found that disney offers programs for youth groups, including science classes. i wrote a proposal and pled my case to the school principal. luckily for me, sister antonia was a disney fanatic, as well. she said that we could go, as long as she came along as a chaperone. since my parents will rarely go to the parks anymore (i'm their third child, and i'm sure they'd had their fill of mickey long before i came along and made a hobby of it), i've gotten creative and recruited all kinds of new companions to share the experience with me, including, but not limited to, boyfriends, friends, and extended family members.
i think half of the appeal is the totally immersive quality of the place. you can love music or fashion and lose yourself at a concert or a particular boutique, but you can lose yourself literally for a week at disney world, submerged in all things happy and bright, and actually not run out of things to do. i think the other half of the appeal belongs to the admirable amount of attention paid to details and the seamless construction and incorporation of themes. when there's a themed party going on at school, i usually take it to the extreme for the sake of authenticity. it's only natural that when i go on vacation, i want something more caricatured than real (this is not to say that i prefer the france pavilion in epcot to paris itself, but rather, i prefer disney world's africa to busch gardens' africa, since it'll be a long time before i actually make it to the real continent.). other fringe benefits include the brief conversations that you have with friendly strangers while waiting on line for rides, hearing the multitude of languages spoken by international visitors, and seeing the looks of sheer joy on children's faces. but of course, this obsession of mine isn't limited to disney world itself. it's the movies, the songs, the characters, and even the channel. embarrassingly enough, i only got the disney channel in high school, but this didn't stop me from becoming an avid viewer. but who hasn't identified with one of the disney princesses or sung along with the songs at some point in their lives? the classic disney movies were contemporary takes on classic fairy tales at the time, but their interpretations capture something that's allowed them to crystallize and become classics in their own right. but enough with the gushing, the point of all this is, whether or not i get to disney world this summer (though not for lack of trying), i'm surely going to channel disney women with my summer wardrobe. cue the collages..
minerva 'minnie' mouse has been epitomizing girliness since 1928. though we know her most for frilly dresses, hair bows and bright shoes, she's transitioned from flapper to flamenco dancer to movie starlet and eighties mall rat with ease. still, nothing can keep her away from her classically feminine trademark outfits. zac posen acknowledged minnie's iconic status with his models' hair styles on the f/w08 runway, but there are plenty of spring runway looks that exude a minnie-esque feel, like a floaty blue and green polka-dotted dress from carolina herrera. if there's one thing that minnie never strays far from, it's a simple solid-colored pump with no frills. no architectural or misplaced heels here: a classic satiny miu miu pump in a bright pink hue will do the trick. and for those who don't think that hair bows can be pulled off, see
selina
from flying saucer.
i decided a while ago that belle was my favorite princess, for the simple fact that she actually likes to read. she also doesn't have a problem yelling at her hot-tempered love interest. but what i can't quite figure out is that even though she sings, "there must be more than this provincial life," she settles down in a castle in a relatively provincial area with a prince right after her first real adventure ends. thus, in interpreting belle's style for spring, i've given her the edge i believe she rightfully deserves, while maintaining her simple and minimalist aesthetic: billowy dresses in her best colors, blue and yellow, from lanvin, and a liberty floral print dress from luella, so that she can embrace her affinity for flowers without endangering her lover's life. plus, the tiny florals always make me think of nerdy, bookish girls who could spend days at the library. shedding those positively provincial flats, yellow bruno frisoni sandals keep things interesting, and some wolfish earrings from
wendy brandes
keep the beast close to her heart always.
appropriating jasmine's style for spring/summer is not a task for the faint of heart, but ever since i dressed up as her in kindergarten due to the fact that she and i share a (middle) name, she's been one of my favorite disney ladies. as a headstrong young woman sick of palace life, she heads to the streets, only to find that she doesn't quite blend in. therefore, looks straight off the runway won't quite cut it, but plain garments won't work either. maybe a black velvet dress with a sequined tiger (to remember rajah, of course) from
nasty gal vintage
would do the trick? hammer pants are a must, and though marc jacobs showed jeweled headbands on the ss07 runway, blair waldorf and jasmine wannabes (read: me) everywhere are doing their best to keep them alive.
naturally, this is getting a little out of hand, so i'll end this post here, but i have a feeling a second installation of this is soon to come. until then, i'll be desperately prowling ebay for some disney-inspired pieces.
p.s.: much pandora love if you can spot the
hidden mickey
in this post!!