american apparel and i have a love/hate kind of relationship. i'm wondering how long they plan to continue with their "edgy" ad campaigns, showing off more and more skin and less and less clothing. what i've heard about ceo dov charney tends to disgust me and freak me out a little bit. they entice me with great styles and colors, but every once in a while, i'll make my way to the fitting room, garments presumably my size in hand, and the clothes just ravage my figure, forcing me to start from scratch. but i like their 'legalize la' initiative, and the fact that their clothing is durable and long-lasting (that which fits me, anyway). it's a very fickle thing we've got going on, but american apparel continues to maintain an unassailable position within my wardrobe. their pieces simply work well with me, considering my budget and personal style. therefore, it's not unusual for me to comb through the aa website, piece by piece, picking out my favorite items, not unlike the way i stalk style.com after the shows. with the new school year a distant point on the horizon, here are my preliminary choices for my next aa visit(s).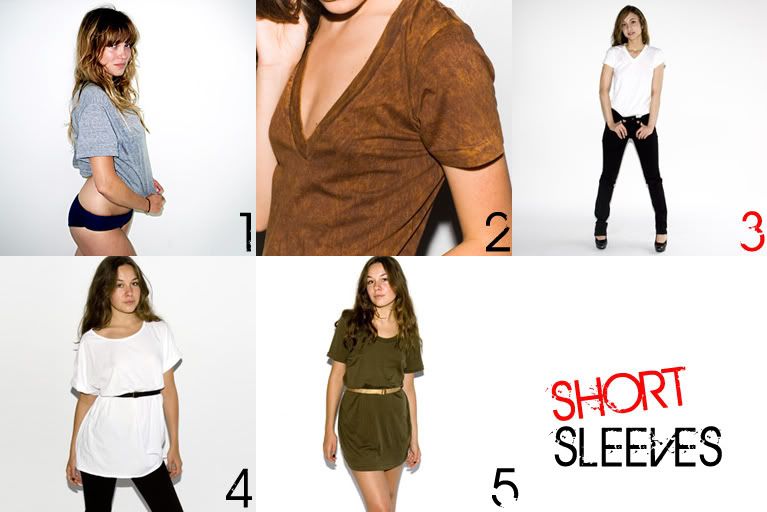 1. (
tr480
) unisex tri-blend short sleeve scrimmage shirt, $16: i have a vintage top kind of like this, except it's striped, got a wider neck, longer, more fitted sleeves.. and shoulder pads. that top looks great with high waisted skirts and jeans, so i'm looking forward to trying out similar looks with a looser cut, thinner fabric, and all around simpler garment. and i think it'd make a really cute pajama top.
wanted in: athletic grey
2. (
6456aw
) unisex acid wash jersey deep v-neck short sleeve summer t, $26: the acid wash screams 'summer in the city' to me, but i'm really into the idea of autumnizing this tee by tucking it into tailored slacks or straight-leg jeans. i'm usually not a fan of the deep v-neck, but in this case i think it could work.
wanted in: brown or red
3. (
2456
) unisex fine jersey short sleeve v-neck, $19: i've got history with this shirt. it's my fallback, everyday, perfect tee, and i have no intentions of outgrowing my love for it. i need another white one, as mine is beginning to look a little dingy. my black one is holding up well, but one more color couldn't hurt.
wanted in: white and heather gray
4-5. (
rsa0401
) unisex big t-shirt, $26/ (
rsas314
) sheer rib short sleeve tunique, $36: i'm not quite sure what the difference is between these two shirts. the unisex big t-shirt is longer than the tunique by three inches, and other than that, it seems like the it's just cut looser throughout. some trials in the fitting room will most likely help me make my decision.
wanted in: white and/or black and/or lapis
grand total: $106-178
1. (
rsacp400
) unisex pinpoint oxford button-up shirt, $54: it's things like this that make me remember why i love american apparel. my two beloved high school uniform button-downs remain in heavy rotation, but after all these years, they lack a certain crispness. still, i've been hard-pressed to find replacements for them until now. i must have one. or two. on another note, why is this shirt's description written in french?
wanted in: oxford blue and oxford grey, to be honest, though that alone would put me $108 in the hole. this is bound to be a tough decision.
2. (
br394
) tri-blend light weight raglan pullover, $34: i'm not gonna lie, i dress down a lot at school. late nights and early mornings often bury my sartorial sense under a mountain of thesis statements and review sheets. lucky for me, an oversized tee and jeans look great for a long day of class..until it starts to get cold, that is. this should do the trick during the winter months. and i'm not saying that a little flashdance off-the-shoulder action
will
go down.. but i'm not saying it won't either.
wanted in: athletic grey
3. (
rsa2405
) unisex fine jersey double-breasted cardigan, $39.50: this one is a toss-up. aa is big on their unisex styles, but it seems like the presence of a bust ruins the line of this garment. i've bypassed this cardigan a bunch of times in stores, but now that i've got a couple of looks in mind for it, i'm willing to try it in a bigger size and see what happens.
wanted in: sahara/black or paprika/natural
4. (
4393
) baby rib long sleeve turtleneck, $27: i've always been a turtleneck hater. i'm not too big on scarves, either. this winter, i intend to give my freezing neck a break.
wanted in: charcoal
5. (
rsaf401
) unisex flex fleece v-neck sweatshirt, $38: i wanted to buy this sweatshirt a few months back but never got around to it. bottom line, it just looks like a great piece to have for fall, one of those essentials that i'll want to wear all the time, on its own, belted, with skinnies, with a pencil skirt..
wanted in: mauve and/or forest
grand total: $153-284.50
1. (
rsa8340
) cotton spandex jersey double u-neck dress, $36: my double u-neck dress has stood up to my near-daily use for almost two years, rarely as a dress, but as a skirt, tunic, or layering piece. towards the end of this past spring semester, i noticed a bunch of girls starting to wear the super body-conscious little number to parties, and i almost wanted to take them to the side and tell them of the dress' several other possibilities. i'll let them figure it out on their own while i get my hands on a replacement.
wanted in: black
2. (
rsa8343p
) afrika printed cotton spandex jersey too-short tube dress, $29: aa has tons of colors but few prints, leading me to believe that whether tons of girls or next to none have this dress, it'll be conspicuous nevertheless.still, my tendency to seek individuality is falling prey to my desire to wear this as a skirt, either with heavy boots or a pair of statement heels.
grand total: $65
1. (
rsac306
) shiny legging, $42: my first pair of these leggings caused quite an unexpected uproar when i debuted them. co-workers expressed disapproval, complete strangers felt compelled to feel the fabric, and my mother told me in no uncertain terms that they looked like clothing for a very specific type of girl. multiple wearings and washings have them looking a little dull lately, so i need to snag another pair. hopefully this time around people can keep their hands and opinions to themselves.
wanted in: lamé black
2. (
rsart400
) four-way stretch high-waisted side zipper pant, $75: these pants looks pretty awesome, but for $75, they're gonna have to look mighty good on me to warrant a purchase.
wanted in: medium grey or ash blue
grand total: $65-117
grand, grand total: $366-644.50. holy crap. a hefty price tag for sure, but i can think of single handbags or pairs of shoes that would run up a higher bill. after trying on things and changing my mind about some of them, i'm sure i can whittle down the final price.. i hope. the hunt begins.