every now and then, i really wish i had my own place. to be fair, i'm up in cambridge for about nine months a year at school, but this isn't quite what i'm after. i'm talking about
my own place
, with no move-out date or dormitory rules in sight. a place where i can paint the walls on a whim and pair antique furniture with modern accents, a space where i can hammer, organize and tweak my way towards my own version of domestic paradise.
unlike my magazine addiction, which i've always been keenly aware of, i have no idea how this little proclivity snuck up on me. during 'tweenage visits to macy's, i used to nag my mother incessantly until she stopped browsing through bedsheets and bathroom rugs and accompanied me to my preferred areas: namely, the juniors and shoe sections. as of a few weeks ago, however, while hitting the city pavement with two of my term-time roommates, we stopped into the herald square macy's and found ourselves inexpicably drawn to the home section, seriously contemplating splitting the costs of glassware sets, a cocktail shaker, and a blender priced in the hundreds (looking back on my past couple of posts, maybe i simply have spending issues in general). sara, one of my blender purchase co-conspirators, has confided in me that she too harbors similar longings for a place of her own and describes the desire as a "nesting urge," though not so much "
an uncontrollable urge to clean one's house brought on by a desire to prepare a nest for [a] new baby
" as an urge to bypass the college dorm room, throw blanketed-futon, postered-wall, dining hall and take out, beer-fueled social scene of our late teens and early twenties, skipping ahead to a more mature and elegant lifestyle, sans plastic dinnerware. given the relative newness of my nesting urge, i have to admit that my home style icons are few and far between. i have yet to see the inside of karl lagerfeld's living space, and what i've seen on mtv cribs leaves much to be desired. instead, i prefer to emulate a couple of women who represent a sort of elaborate minimalism, in the realms of both reality and fiction: kate spade and holly golightly.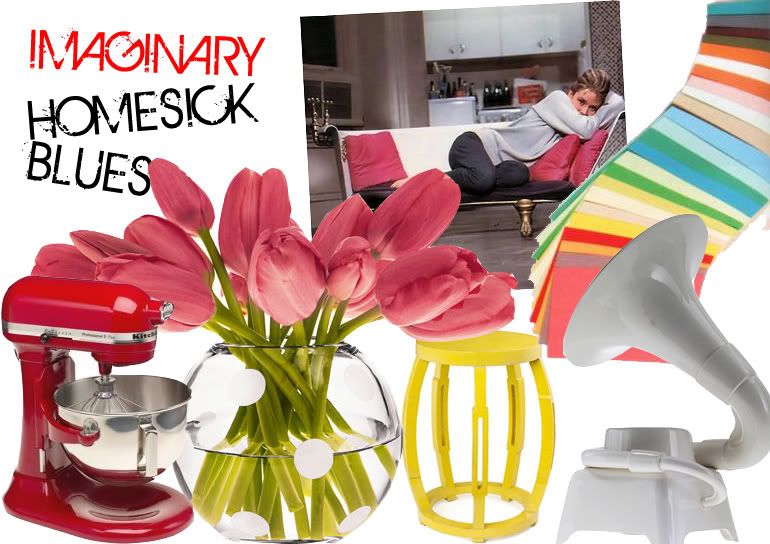 megan gave me kate spade's style book in passing one day during high school, offhandedly remarking, "it was a gift. i think it's more your style than mine. keep it, you'll like it." and i did. i bought manners and occasions days later and have since lost count of many times i've thumbed through their pages, in pursuit (and eventual discovery) of that perfect tip or idea. her modus operandi is clearly void of fuss and frills, and the punchy simplicity that penetrates her handbag, shoe, and home collections is a characteristic i aim to translate to my future space. breakfast at tiffany's the novella came before breakfast at tiffany's the movie for me, and though the apartment as depicted on film is something of an icon it's own right - that refrigerator and the surprises inside, the split bathtub as couch - it's truman capote's own description of holly's place that represents a bit of the ambiance i so adore:
"the room in which we stood (we were standing because there was nothing to sit on) seemed as though it were being just moved into; you expected to smell wet paint. suitcases and unpacked crates were the only furniture. the crates served as tables. one supported the mixings of a martini; another a lamp, a Libertyphone, Holly's red cat and a bowl of yellow roses. bookcases, covering one wall, boasted a half-shelf of literature. i warmed to the room at once, i liked its fly-by-night look."
oj berman disapproves of holly's digs, saying, "this is a dump. this is unbelievable. but the kid don't know how to live even when she's got the dough." but there's something to be said for a room that's airy and a bit flighty, sharing it's square footage with furniture without ever being weighed down by it. even when i've "got the dough," so to speak, i never want it to be visible within my habitat. i've no need for stuffy patterns and furniture sets, heavy drapery and lush carpeting. all i want is high ceilings, an abundance of light, fresh flowers and a hardwood floor. the rest will fall into place.
now i could sit on all these ideas and continue to fashion glass houses and crystal castles in my mind's eye until 2010, when i'll leave dorm life (hopefully) for good, or i can do trial runs during my remaining time at school, learning what works and what doesn't, and how to make the best of the limited space allotted to me. unfortunately, i can't make any predictions until i see this year's room in september. updates to come. until then, i'll be on the lookout for a few pieces of fly-by-night decor.