if you can imagine the outcome of a love affair between daphne guinness and paris hilton, you've probably met my friend jessica. she's four foot eleven inches of pure eccentricity with a thing for fashion, which jumpstarted a friendship between us the summer after high school. we spent every weekend pounding the downtown pavement in search of thrift and vintage shops, and though we never had much money, we somehow never went home empty-handed. it was great - jessica was my fashion antithesis and half my size, so we'd rarely find ourselves lusting after the same piece. i'd snag the cutest fifties black and white gingham wiggle dress, while she'd fall all over herself for a mid-calf length pink/purple/aqua tulle number that even she couldn't find an appropriate occasion for. i'd always make futile attempts to try and rein in her wild sartorial flings, but i soon realized you can't tell an heiress what to do - the rest of us are just along for the ride
.
it's hard to pin jess down style-wise, but a good starting point is all things girlish and bright (see that blue betsey johnson confection of a dress for reference). true to form, the girl's got a major thing for juicy couture, despite all kinds of protests and reasoning to the contrary. but with stores and boutiques - and fashion shows and publications and auto manufacturing plants, etc. - shutting down left and right, jess was starting to get a little worried about the future of her beloved juicy outpost on fifth, until she came up with a backup plan. i'm scouring style.com when jessica says:
"

omg, so now that juicy is going downhill, i think it's time for me to move on to bigger and better things.. something more mature..

"
intrigued, i ask her what she's gravitating towards. jessica says,
"

hellz bellz and married to the mob.

"
well, i don't dislike either brand. in fact, i'll admit that it was only a year ago when i perused the mob website, admiring the brazen logo tees and wondering just how i could style them so that the irony shone through, rather than misplaced hoodrat bravado. but then i forgot all about the brand, and i've gotta say, on second glance, i've lost a little bit of that lovin' feeling. now hellz bellz on the other hand.. i haven't checked them out in awhile but i was pleasantly surprised by what i found.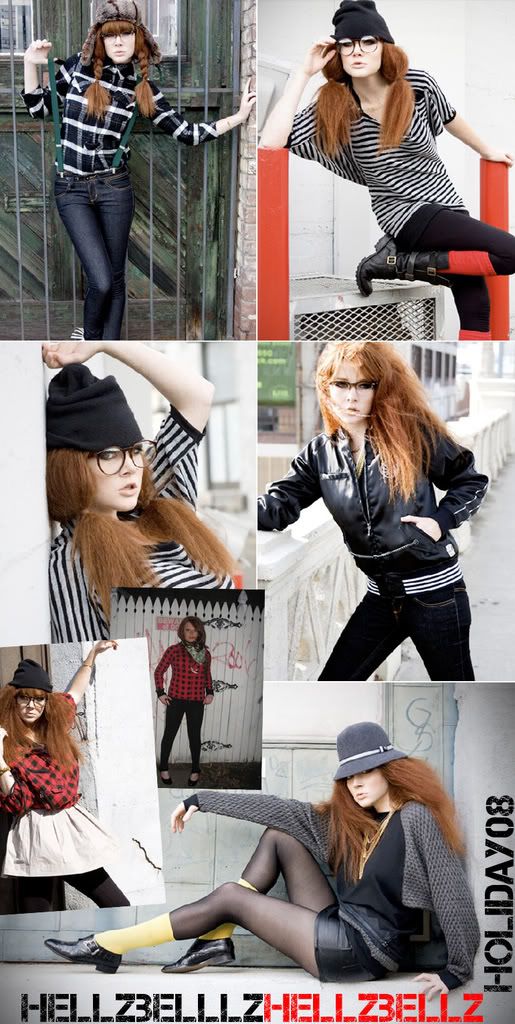 their holiday collection is inspired by mae west, presumably on behalf of her being an original bad ass broad. i was smitten from the start, not least of all because that redhead model in that lumberjack plaid reminds me of some photos of taylor i took almost exactly one year ago. but
this
jacket has such an interesting shape, i almost want to revisit the trend. in fact, nothing in the collection is especially groundbreaking, but the cut, fit, and details - chains on a simple black satin bomber jacket? okay! - are the real draw. and on a somewhat unrelated note, i love all the eyewear in these shots! unfortunately, they don't seem to be on sale anywhere. so in the end, i had to concede to jess, as usual, and as it turns out, she might not be the only one making hellz bellz part of her wardrobe in the near future.