i'm not a big drinker, so i can't say i know what it's like to wake up after a night of partying and learn all kinds of sordid details about what you did while under the influence. i can however, fully attest to having experienced consumer blackout - you walk into a store, calm and composed, thoughtfully fingering attractive merchandise with no intention of buying, and the next thing you know, you're home with a significant addition to your wardrobe and an empty bank account to boot.

it happened to me yesterday - i met with sarah in the square to help her celebrate her last paper being handed in, and somehow i started celebrating the same thing myself, though mine were all turned in last week. after that, i began rationalizing that a late christmas gift to myself couldn't hurt.. or an early birthday gift. at that point, the vision got a little hazy and i lost track of my spending, but i'm starting to put the pieces together..
the wool/velvet combo on this blazer reminds me of an outfit my mother whipped up for me in emerald plaid, circa christmas 1996. but even though it might have been swiped directly from samantha parkington's wardrobe, it still manages to exude a military-style cool, with sleeves that were made to be pushed up.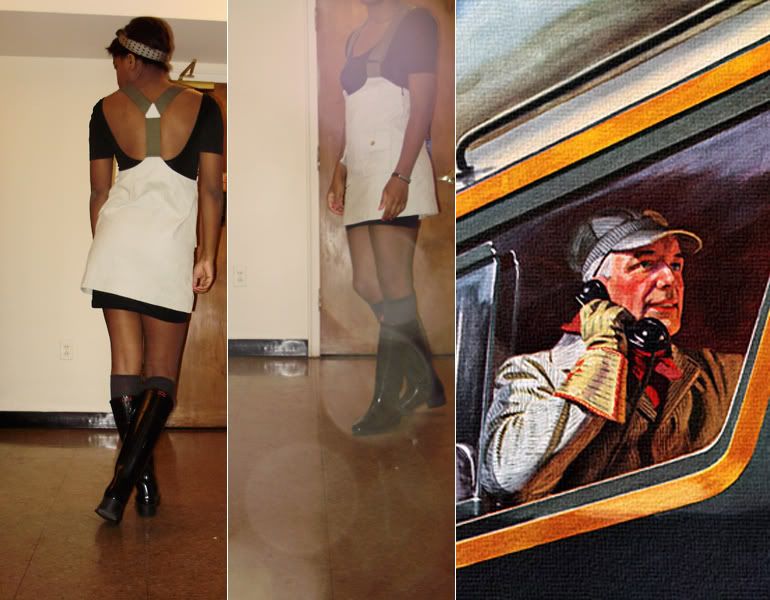 seeing this dress on its hanger, i was convinced that putting it on would be akin to wearing a trusty old backpack. i took it to the fitting room strictly out of curiosity, and was pleasantly surprised by its fit and the vast array of imagery it brought to mind - rainshowers and jumping in puddles, ducks and ponds and train sets and pine trees. it strikes an odd balance between childlike jumper and heavy utility garment, but what's even more odd is that it works.
[*at this point, i'd like to take a moment and gloat over the fact the above two items came to a grand total of $30.]
my inspiration for this look consisted of rhoda morgenstern, 1970s downtown new york, african drums, miami housewives, and ms. monaco, my seventh-grade teacher with the ice-cream white hair, strong perfume and brooches that fastened scarves to sweeping ankle-length skirt suits. i'm not one for lots of accessorizing, but certain pieces inspire you enough to try something a little out of the ordinary. these shoes would qualify as one of those pieces. since i brought them home, i've caught myself on several occasions just gazing at them. the platform shape with wood-like detailing on the leather is simply too much for me to handle. forget warm weather and sunshine - as soon the snow melts, i'm stepping out in these bad boys. mark my words.

and the damage doesn't stop there.. a trip to american apparel (un?)fortunately proved just as fruitful - more on that later.