okay, so here are the facts.



friday, may twenty-second: my parents hit the square just as i finished up my last exam and drove me back to my house. sleep-deprived and irritable, i wasn't in the mood to deal with my mom's packing method of stuffing any handy object into the nearest container, so i told my parents to take off for a bit while i finished packing to go home. a couple of hours later, my mother showed up in my room, impatiently demanding to help me and speed up the process. i protested, especially since i knew i had to unpack and pack again for colorado a day later, and needed to know where i had put all of my stuff. my mother insisted, and began to start using her particular method of packing. a couple of hours later, i sent my parents off with all my stuff, saying i'd take a bus home the next day, noting that i had a few more things to put into storage and things to wrap up with house super.

saturday, may twenty-third: i packed the last of my things into a duffel, put my boxes into storage, gave my key to the super, and swept the entire room. after four hours on the bus, i got home and began packing for colorado. i noticed that i couldn't find a large bag in which i had placed all of my jewelry. i waited until morning to alert my mother, who looked everywhere and couldn't find it. she claimed she took all the bags i gave her, so there's no way it could have gotten lost. nevertheless, we still can't find the bag. i e-mailed my house super frantically, who replied that if it was found, it might have gotten into storage, but nothing is certain.

so as of right now, i have basically lost all of my jewelry. i still have some unpacking to do, and if it doesn't turn up here, i'll have to wait until school starts to be positive that it's gone missing, but the prospect is still pretty daunting. i'm trying to not think about the memories potentially lost in that bag - necklaces and rings i received at birth, gifts from cameron and other loved ones, gems found on vacation - by reminding myself that they're simply objects and i still carry the sentiment with me.

i've also been attempting to distract myself by thinking about crafting a more streamlined, edited jewelry collection. in all honesty, i don't wear jewelry all that often, and though i dabble in a little bit of everything, i'm truly enamored of dark colors, skinny fits played against oversized or draped, and simplicity, and an ideal collection of baubles would reflect that
.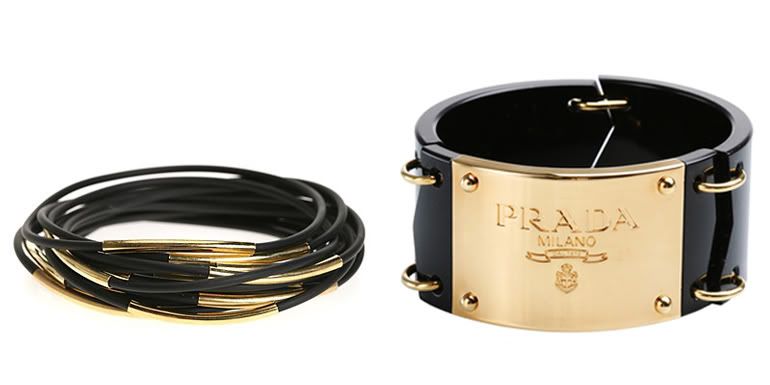 i'm most likely to accessorize my wrists - in fact, the only thing that escaped getting lost was my marc by marc jacobs 'veritas inlustrat' black leather bracelet, since i wear it day in and day out - so a solid roster of wrist adornment seems necessary. a high-low mix would be ideal, with gilded rubber bangles mingling with this prada beauty (i'm not a big fan of ostentatious labels, but i could make an exception for this)
.
stepping up the intricacy, but also maintaining a certain stark beauty are these gorgeous pieces by
cheung lik
from her and wear-and-tear line. these bracelets from her 'squeezed chains' collection have something harsh and industrial about them without losing a bit of their prettiness - i want pretty much every single one. and there's few things i wouldn't do for that weaving tape necklace
.
speaking of necklaces, i had this long and thin rusting chain from h&m that i had tied around a vintage-looking key and loved to wear to add something delicate to whatever i was wearing. this necklace reminds me of that chain, except it's infinitely more precious (and i don't use that word too often).
and then there are the necklaces you can toss on to add something a little harder to an ensemble, like these chains. over a t-shirt or gown, it's a done deal.

there's a ton of other pieces that i'm dying to get my hands on, but it wouldn't be an edited collection if i didn't edit, would it? even so, pieces of the following ilk are also eligible: peace signs, two- or three-finger rings, old school hip-hop-inspired thick gold, and shoulder-dusting or otherwise outrageous earrings. oh, and did i mention that i also lost most of my handbags and all my hair accessories in the same bag? yeeeah, i'm pretty bummed, but i'm trying to move on.

jewelry. lost. voilà.