good news - refinery29 is amazing! i'd like to think i had a good first day, with one
story
up, and a couple more lined up for tomorrow. and with a whole day of work under my belt, i celebrated by going home and immediately falling asleep.. for six hours. 

it seems no matter what i find myself doing each summer, i end my first day by taking an interminable nap. only problem is i wake up in the middle of the night, i.e. now, and can't get back to sleep. here's to hoping my sleep schedule corrects itself and soon, but until then, i'm glad to present the spring/summer '09 edition of disney makeovers - no, i haven't yet outgrown my disney obsession (never will), and no, neither has this blog.. past installments may be found here and here.
kim possible
a penchant for trendy mallrat hot spot club banana has got kim looking pretty tame these past few years. i mean, wearing cargo pants to save the world? really? i understand that function has to precede form in certain situations, which is why i suggest she tries on nicolas ghesquière's fantastically futuristic take on the pantsuit. in six colors, i'm sure she could give the old cargo pant/black crop top turtleneck ensemble a well-deserved rest. and if balenciaga's wares are a tad too experimental for her high school sensibilities, she could test drive abaeté's version of the classic color palette - the sheer black panels trade in banal for bombshell and can be punched up with badass accessories, like this bullet bracelet. in her personal life, kim isn't afraid of neons or her navel, which is why alexander wang's acid-bright looks are a perfect fit for her, as is this eye-catching dkny dress - never again will archnemesis shego win the battle of style.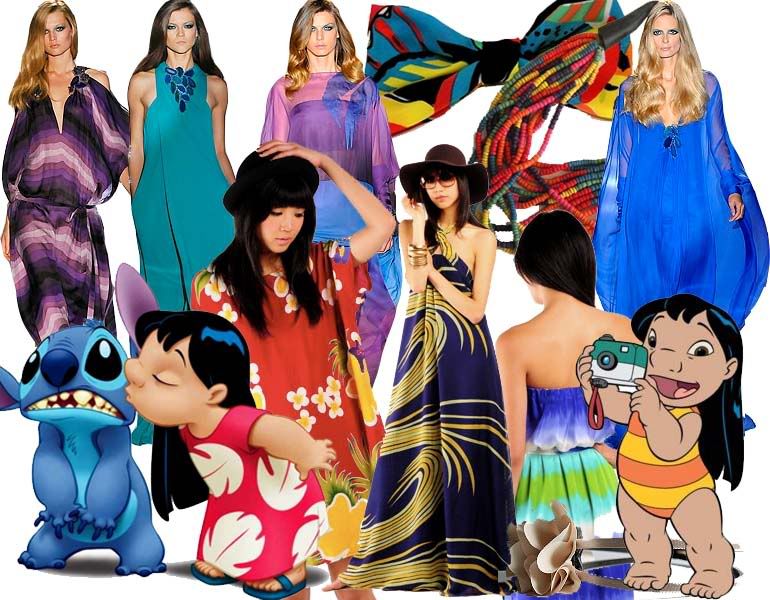 lilo
okay, so she's young - that hasn't stopped tavi or arlo weiner from becoming fashion powerhouses, and it's not about to stop lilo either. she's all about embracing her hawaiian heritage in long, airy dresses with large prints - muumuus, if you will, without the negative connotations. well, i have one word for the little style maven: gucci. frida embraced the muumuu like no other this season, with tons of bright billowy gowns in diaphanous fabrics. i wouldn't try to force lilo out of what's worked so well for her in the past, instead suggesting a tweak in print or length, with some great and less expensive options from nasty gal vintage. and such a simple piece simply begs for bold accessories, in the form of a chunky bangle, large hat, beaded necklace, or age-appropriate bow. now if we could just get her buddy stitch to clean up his act..
violet parr
violet happens to be a seasoned veteran in the fashion industry, having inspired a portion of marc jacobs' fall 2005 collection, not to mention being the owner of a pair of legs that would make even the spindliest model jealous. while she ditched the all-black vibe for the end of
the incredibles
, donning a preppy pink polo-and-headband combo, i like to imagine that that was just for the cameras, and that she's currently doing the dark minimalist thing in ann demeulemeester blazers and tunics, and distressed sweaterdresses from alexander wang. the shoes would be all amazing, all the time, in black leather with interesting shapes and details, and the hair would be permanently situated directly in front of one eye, misshapes party picture perfect. did i also mention that in this scenario, we would also be best friends?