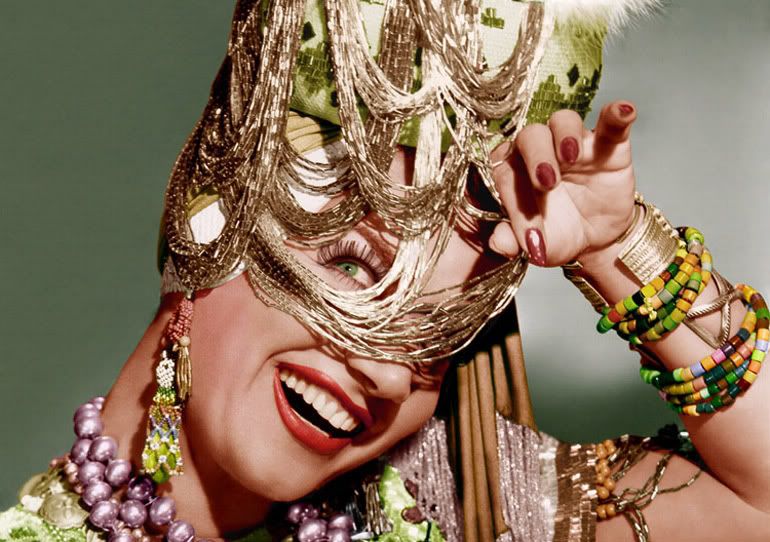 whether it's slim-fitting denim cuffed at the ankle, a plaid button-down ripped off from cameron's closet, or my beat-up marc by marc leather cuff with the latin inscription, there's nothing like a potent dose of simplicity to woo me sartorially. yet i've always loved feasting my eyes on the bold, heavily styled looks of loud ladies like kid sister, la roux, and roisin murphy, so i suppose it's not all that outlandish that i've recently been obsessing over the brazilian bombshell herself, carmen miranda.

on the other hand, my latinophile roommate blair probably thought she was dreaming when i shook up my usual steady rotation of bob dylan to indulge in a bit of samba. as i sifted through youtube film footage of ms. miranda, she drifted out of her room like a charmed snake, quizzically pleased with my newfound interest and gushing with memories of her time in brazil
.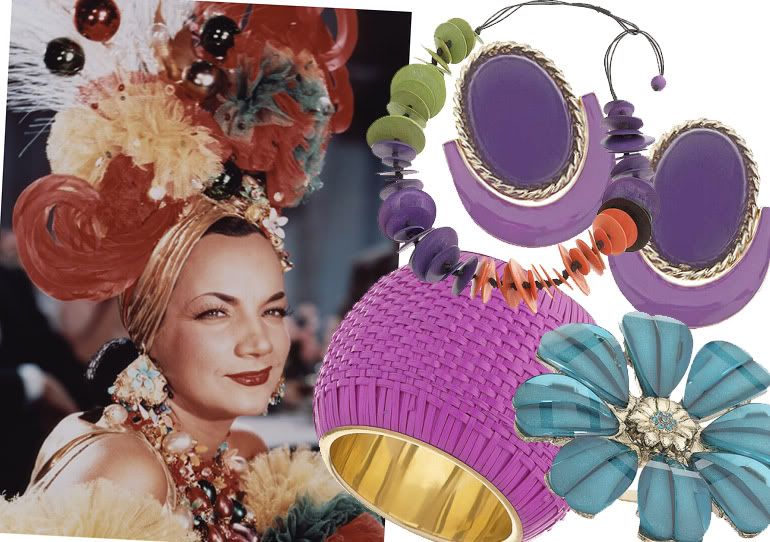 b
u

t until i make my way down to bahia to see the sights for myself, i'm perfectly content to lose myself in carmen miranda's technicolor musical numbers and flamboyant charm. first off, there's the jewelry - despite the fact that i'm impossibly picky about which baubles i choose to adorn myself with, it's amazing how gaudiness practically dissolves into a buoyant elegance when trinkets are piled atop each other to excess.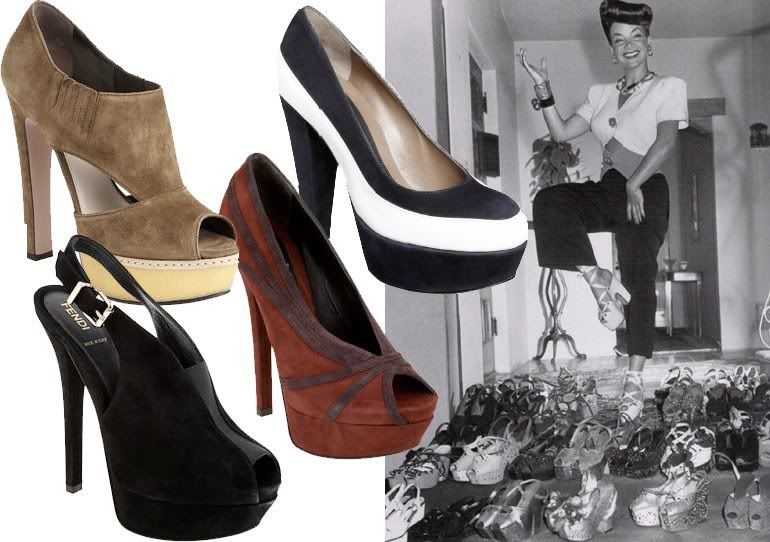 i'm mesmerized by the way a simple swish of the hips becomes divinely exaggerated when hidden underneath a floor-length skirt - so mesmerized, in fact, that i just went ahead and bought a black velvet anne klein maxi skirt after multiple viewings of 'mamãe eu quero.' but perhaps even more fun than the instantly gypsy-esque feel that goes along with those long skirts are the shoes that go underneath. considering that i wobble like a young bambi on stilettos, i've long been a fan of the statement-making platform, which is why i'm loving carmen miranda's throughly chunky stacked affairs, preferably peep-toed with shiny hardware and glitz.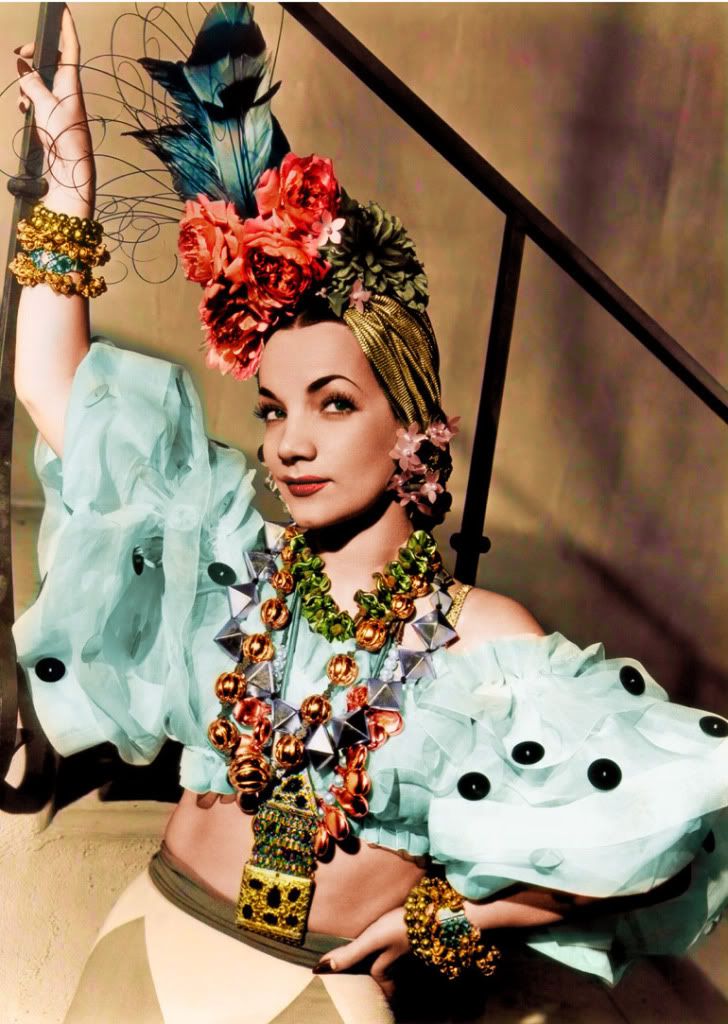 i spy oversized pyramid studs, crop tops, charm bracelets, bib necklaces, and statement pieces galore - definitely a posthumous style icon, but carmen set her trendsetter status way back in 1939 when saks created an accessory line inspired by the singer. i'm currently on a personal mission to get my hands on some of these pieces.. let the hunt begin.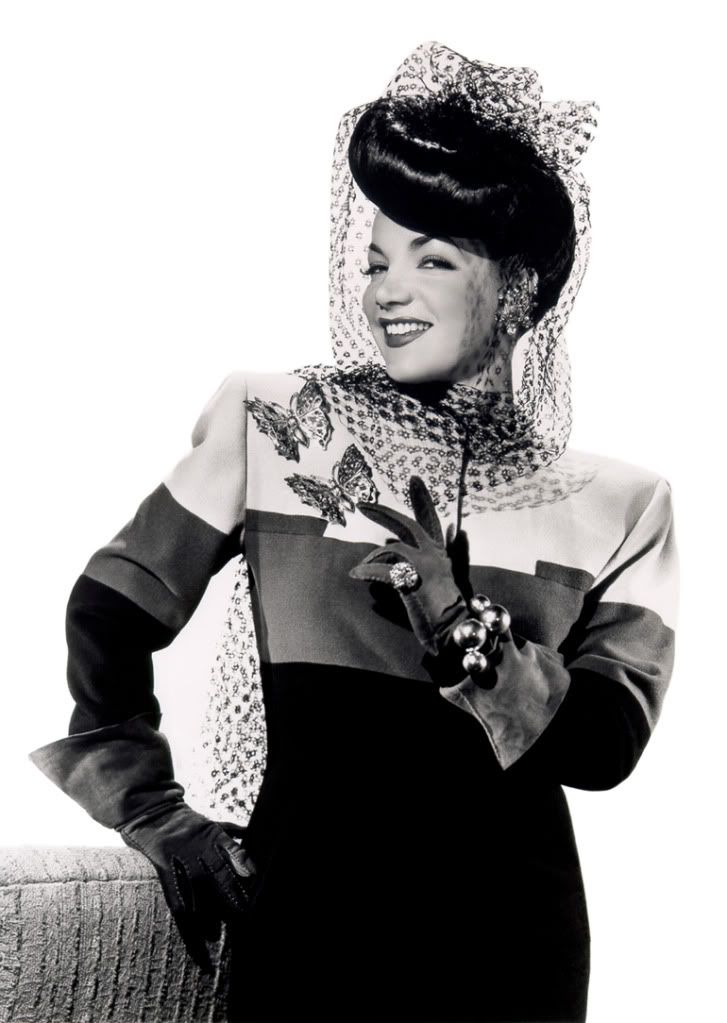 some of the my favorite finds were images of ms. miranda's reappropriation of her look to suit wartime america - when not on a twentieth century fox set, that is. a shoulder-padded jacket pinned with multiple brooches, two sparkly earrings per ear, bulbous studs on lady's gloves, a flowing veil, and always those long lashes. 
and because everything goes great with some disney, i was thrilled to find this clip of donald duck and jose carioca getting up close and personal with the lady in the tutti-frutti hat:
[image credits: google image search, topshop, barneys, marni]