when i mentioned to my coworkers a couple of weeks ago that i was going up to the catskills for my birthday, i received a few blank stares. "there's nothing to do up there," one of them pointed out.

country getaways have never been too high on my to-do list, but i figured if there was absolutely nothing to occupy us, i could at least catch up on some rest. but what do you know - we ended up having a (sort of) packed schedule!

so exactly what does one do in the catskills? i've taken it upon myself to let you all know. don't worry, you can thank me later.

1: eat.
there are more than enough diners and restaurants in the area to go around, but since our cabin came with a kitchenette, the boy and i decided to try our hand at some home cookin'. and by "our," i mean "his." i kept myself busy documenting the process and offering moral support. this delicious cajun-spiced chicken dinner was actually the first meal the boy had ever cooked. thank god he has a knack for the kitchen, otherwise i'm pretty sure we would have starved.

the next morning we concocted a literal interpretation of brunch and ate eggs and hot dogs in bed with goofy cartoons on the tube. raspberry ginger ale, martinelli's sparkling apple cider, beer, and twisted teas flowed freely throughout the weekend. how's that for adulthood?

2: go hiking.
it should be pretty obvious that this was the boy's idea. i've gone hiking exactly two times in my life, and i don't remember either of them being particularly enjoyable, but i agreed. i'm a good sport like that.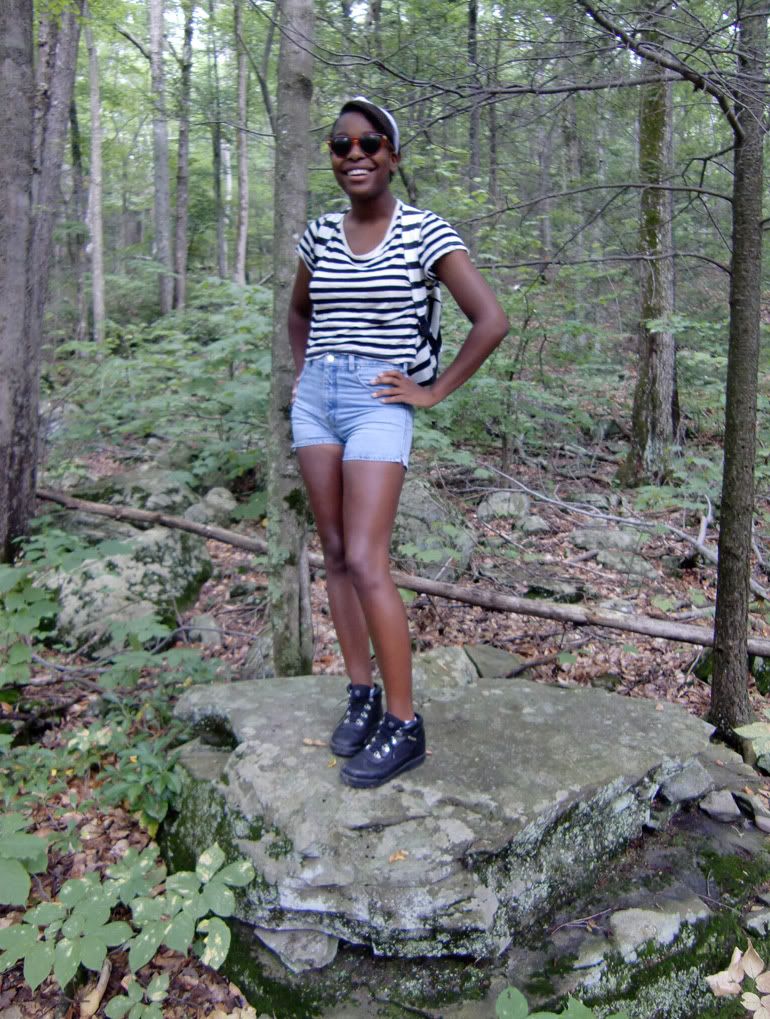 after slathering myself in bug spray and bracing myself mentally, i set out on the trail.. and immediately began spazzing out. i'm talking about flailing my arms and shrieking every time a bug came nearby, compulsively brushing myself off, and checking my back constantly for axe murderers. but if you can believe it, i actually had fun. that look on my face is a mixture of pride, exhaustion, and an overblown sense of accomplishment. oh, and sweat. a whole lot of sweat.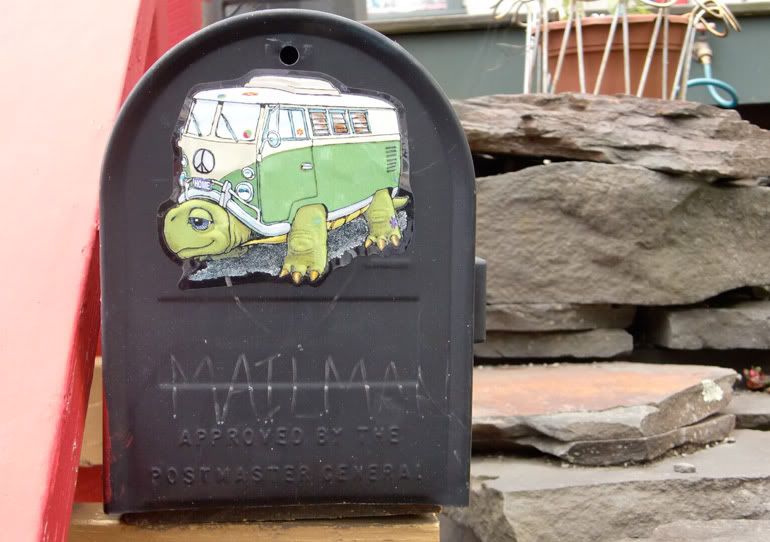 3: go to woodstock.
i didn't expect woodstock to be so hippietastic, considering that the festival didn't actually take place there, but i'm not complaining. i didn't explore as many of the stores there as i'd hoped, but i did score a fantastic vintage ralph lauren scarf and
browse through a lovely flea market.
side note:
once upon a time,
i bought a silk paoli scarf at screaming mimi's for $32, but never wore it. i brought it upstate with me and decided to finally break it in, only to find the same exact scarf that day at a woodstock vintage shop for $8, same condition. screw you, screaming mimi's.
the minute i saw this house on the highway, i made the boy pull over so i could take a picture. but when i got out, i suddenly got nervous - i mean, sure, there's colorful peace signs all over, but what if the owner of the house came barreling out the front door with a rifle, telling me to get off his property? (these are the thoughts that run through my mind.) i sheepishly took a quick picture and ran back to the car.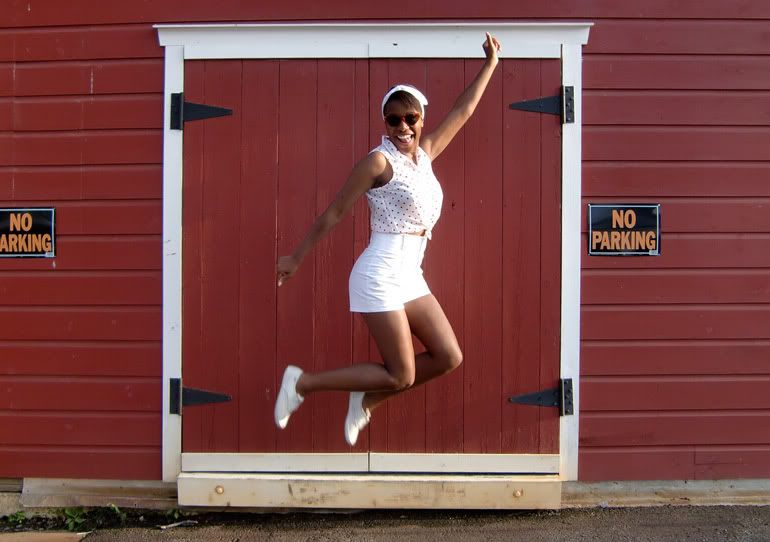 4: play dress up.
nobody puts pandora in a corner.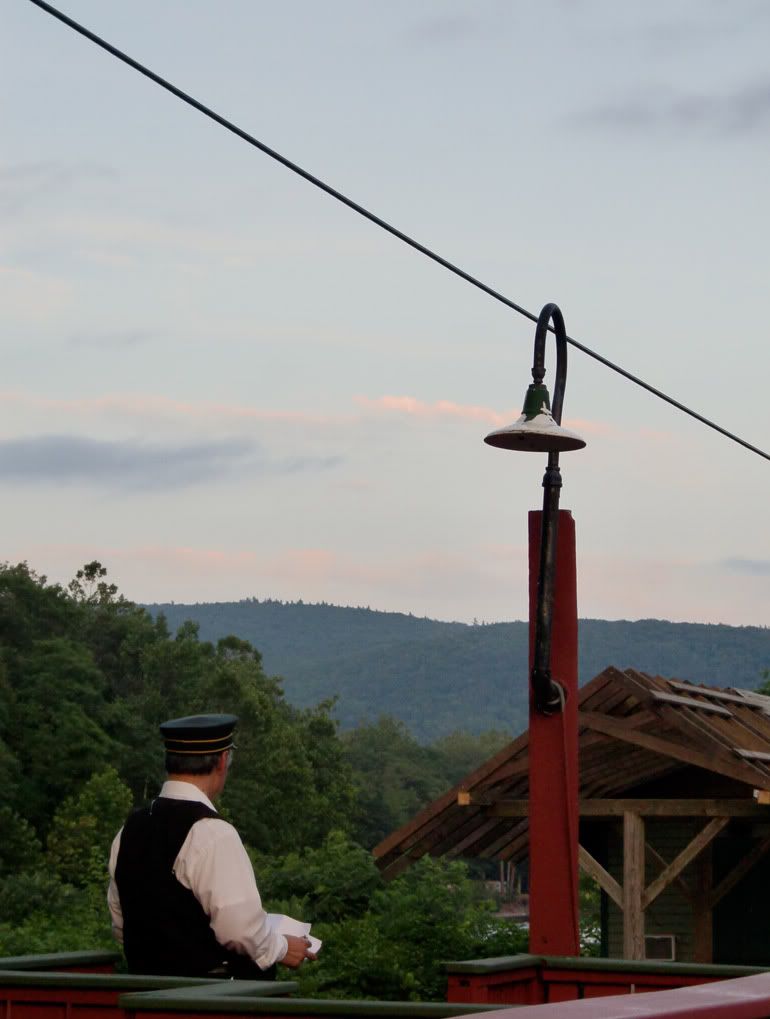 5: take a moonlight train ride.
our first stop was the railway museum in phoenicia, where we were greeted by earl pardini and the slide mountain string band. they played until the sun went down and then finished their set aboard the train. bliss.