[clockwise, from top left: fossil, $148; aqua, $175; fossil, $218; coach, $378; roxy, $52]
this is probably the sort of thing i should be talking to a chiropractor about, but here goes:

every time i carry a purse for more than an hour, no matter how heavy it is, i start to experience this searing pain in whatever shoulder blade is carrying the bag. switching the weight to the other shoulder only makes the pain take up residence on that side of my back. at this point, although i have no photographic evidence to prove this assumption, i'm pretty sure i start to resemble an downtrodden ogre, hunching my back and continuously rolling my shoulders as i try to ward off the fiery intensity that is blazing throughout my entire back. at this point, even handing off the bag to someone else does me no good. i have no choice but to put on a brave face and just hobble around until the pain subsides.

yes, i should probably get this checked out. no, i don't have the time to do that right now. the solution? backpacks.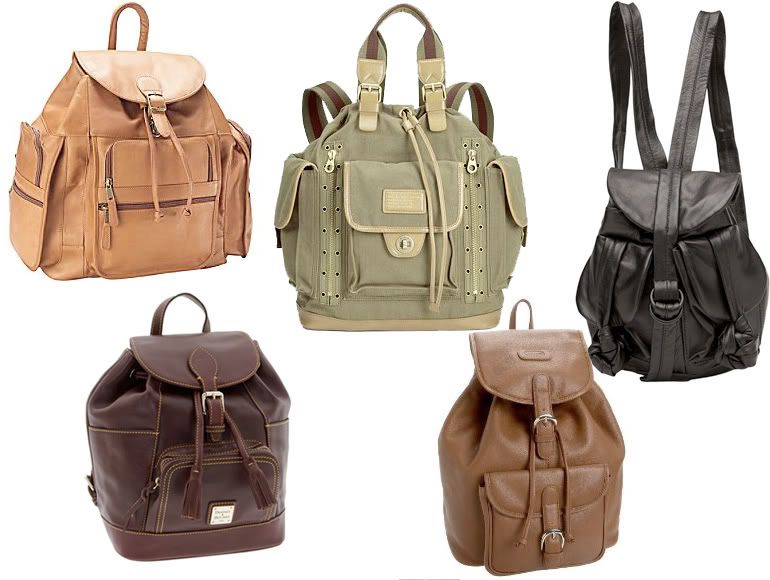 [clockwise, from top left: clava, $144; marc by marc jacobs, $298; slow and steady wins the race, $402; leatherbay, $240; dooney & bourke, $265]
thankfully, this is a welcome necessity, as i'm rather fond of using backpacks to stand in for shoulder bags, crippling back pain aside (um, have i mentioned that i love the 90s?). the tricky part is finding the right one. having been made to carry my purses on numerous occasions, the boy got me a trusty striped canvas dusen dusen backapck that can really take a beating, but i'm looking for something a bite more refined, something i can carry to work that won't look out of place with my office.

trouble is, i still need something large enough to fit my laptop. and at this stage of my financial history, i need something affordable...like, ultra affordable. time to hit the vintage circuit.