while i was making the rounds of blogs the other day, i came across
pretty legit
's post about glasses. my reaction was pretty much the same as it always is when i read about glasses: something along the lines of, "oh, okay, that's nice," as i move on to the next thing. it's not that i don't care about eyeglasses as a fashion accessory, but as someone who needs corrective lenses on a daily basis, i've always thought it was just too tedious and expensive to try and accommodate them to different outfits and looks. this is just one of several issues i've had and continue to have with optical lenses over a span of about seventeen years. i've settled into a sort of comfortable acceptance with my eyesight (or lack of it), but i think the time has come for me to embrace it.
my first brush with corrective lenses came at the age of three. i remember watching my mother peel carrots for dinner on an otherwise uneventful day. glancing down at me from time to time, my mother asked suddenly, "why are you squinting?" immediately relaxing my eyes, i replied quickly, "i'm not." naturally, she wasn't fooled and commented that she'd seen me doing this on several occasions and maybe it was time for me to get glasses. i protested vehemently, though i'm not sure what exactly made me so averse to them at such a young age. both my brothers and my father wore them (my mother refrained from wearing them frequently, despite her bad eyesight, until i was a few years older), and i'm sure i had come into contact with plenty of other people who wore them as well, but something in me said, in no uncertain terms, that glasses were not something that i wanted to start wearing. but without further ado, my mother promptly brought me to an eye doctor and i got my very first pair of glasses. i don't have any photographs on hand to regale you with, but i can assure you that they were round, thick, plastic, and atrocious (though i could think of a more than a few hipsters who would probably love to snag a similar pair these days). needless to say, i hated them.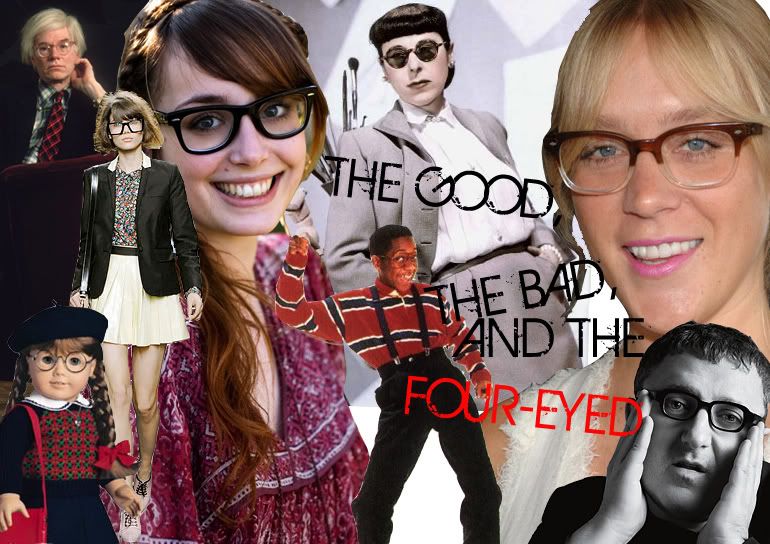 and why wouldn't i? with the exception of some recent tastemakers (chloe sevigny, luella bartley's
"geeky and cartoonish"
ss08 collection) and some older ones whom i wasn't exposed to until my teenage years (andy warhol, edith head), people in glasses generally don't get much love. sure,
family matters
pretty much revolved around steve urkel, but did anyone really want to
be
him? case in point: in the 90s, my brother often got compared to jaleel white, and it was practically the bane of his existence. unsurprisingly, he turns into stefan urquelle, smooth in all the ways that steve is not, minus the glasses. does claudia kishi not trump mallory pike in any and all circumstances (except maybe a spelling bee)? is there a glasses-wearing spice girl? on
saved by the bell
, screech was supposed to be a huge nerd, yet he was still distinguishable from the other, unable-to-hang-out-with-zack-morris-and-co.-nerds by his lack of glasses. one of the few exceptions to this trend was molly mcintire, of american girl fame. she was pretty ballin'. but it's not as if my elders really tried to dispel this misconception. when i switched eye doctors, the new one looked over my charts and records, peered at me and asked, "are you a good student?" nod. "a really good student?" shrug..nod. "i can tell. your eyesight is getting progressively worse. you shouldn't expect for it to improve without surgery. this is a pretty common problem with people who spend excessive amounts of time reading during childhood." thanks for the encouraging words.
for me, a new pair of glasses, once a year and every year, has been the pattern up until, well, now. i eventually switched from plastic frames to metal ones, and when i finally realized that my eyesight wasn't getting any better (unlike my brother, the lucky duck), i decided that i could get increasingly smaller lenses each time around, as if the smaller they got, the more likely they'd be to cease to exist. i started nagging my mom about contact lenses in middle school, but she thought the idea of putting a lens directly onto my eyeball was pretty gross (as did i, secretly) and vetoed the proposal yearly. towards the end of high school, some of the tacky orange-skinned girls, for some reason or other, started to wear bold, eye-catching frames from dolce&gabbana, gucci, and the like. some of them said they needed glasses all of a sudden and thought these frames were cool, while others admitted that they just thought it was a good way to flaunt their money and status within the dress code. in spite of myself, i admired their ability to wear glasses without any self-consciousness, but i still got my first pair of contact lenses in senior year and silently rejoiced over the fact that i'd at least partly be able to put my old glasses to rest. i debuted them on halloween 2005 with my flapper costume, satisfied that even if i couldn't mimic josephine baker's dance moves, i'd at least be like her with my outfit and lack of eyeglasses.
and then a funny thing happened. i kept wearing glasses. it was infinitely easier, especially for someone as lazy as me, to slip them on in the morning, instead of situating myself in front of a mirror to put in contacts one by one. i could see distances better with glasses compared to contacts, which helped when sitting in class attempting to understand the krebs cycle, and my eyes didn't get tired even if i stayed up all night wearing glasses. after years of enduring unrelenting nagging from me, my mother was incredulous, but the pattern persists. on special events and days that i feel like it, i'll put in contacts, but other than that, it's glasses. but.. it's the same pair of glasses, this year's glasses. i've stopped trying to make my frames shrink into nothingness, and i've got some bold plastic frames these days (no big logos, though - not my style). on the day before i left for college, i splurged and bought a pair of chanel frames, but no one will put prescription lenses into them without insurance. for chanel, i guess the insurance is worth it, but in the meantime, they're useless unless i'm wearing contacts underneath them. and those are my eyeglasses options. limited, no? but it's been limited by choice.. until now. i want to expand. perhaps if my prescription stayed stable, this wouldn't be such an issue, but since it's always changing, i'd be forever replacing lenses in a growing set of frames. so it's on to plan b: contacts under great frames.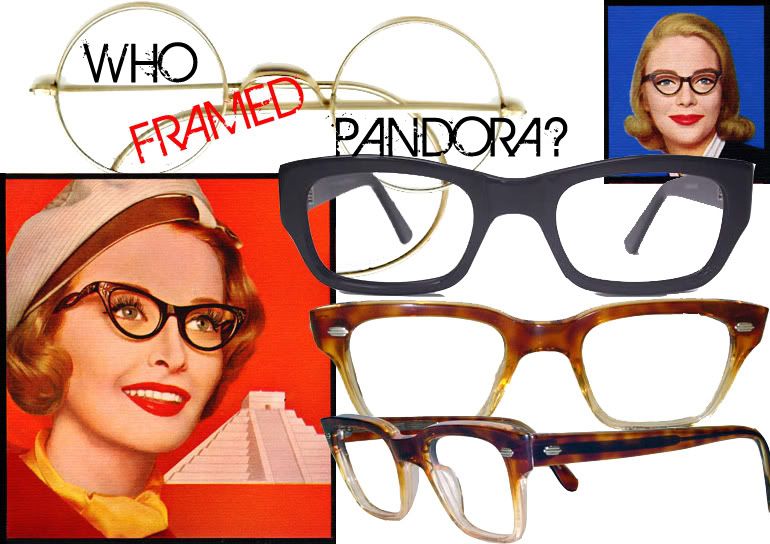 when i searched for vintage frames, i found that i'm not too fond of old women's styles.. the cat eyes and embellishments don't really sway me. but i love the bold, no-fuss look of men's eyeglasses from the fifties and sixties. i'm a really big fan of tortoiseshell frames, and the ones on the bottom are my absolute favorites. they combine that wayfarer shape with the two-tone look that i love so much on chloe sevigny. next comes the oh-so-necessary simple black frames, and this style
"pays homage to the 1960s mod european film movement -- think marcello mastroianni and michael caine."
and last but not least are glasses that conjure up some of my favorite images: hippies and john lennon. while i'd probably prefer these in a gunmetal color, i love their simultaneous simplicity and uniqueness.
and now, back to my regularly scheduled program of continuing to ruin my eyesight (and my intelligence quotient) by reading
it had to be you: the gossip girl prequel
. oh, the lazy days of summer..