i remember spelling out my sartorial frustrations on this blog once upon a time, complaining that there was no fashion presence on campus, and i was caught in a real rut. in the months since that rant, a combination of my environment and my perspective has taken a turn for the better, because it seems like my agenda is filled to the brim lately with truly engaging prospects and opportunities related to fashion.
i've already talked about project east
(ticket details forthcoming!) and my first article in rive magazine, but i've also got an article coming out next month if all goes well, i've been attending fashion career seminars with jay calderin, the founder of boston fashion week, and i just scored a mentorship with a magazine editor. it's finally starting to feel like i'm taking tangible steps towards making a life out of what i used to think was just a daydream.
along with all of these new developments comes a new tendency to draw inspiration from practically everything that falls into my line of vision. i definitely still swoon for chanel and mcqueen and all that jazz, but i'm also falling hard for completely new aesthetics, and not necessarily ones you can find on style.com.
i've been riding a major sixties kick for the longest, so i was stunned to open up my depleted, post-hard drive crash itunes library and discover that there was a time when i didn't have gads of bob dylan tunes. while i slowly but surely replenish my janis and jimi, i'm rediscovering my love for synthesizers, booming bass, infectious rhythms, and lyrics with swagger. in other words, i'm craving pure, unadulterated hip-hop, which begs the question:
where were you in '92?
in 1992, i was a first-year student at st. mary's of the assumption preschool. i remember arguing with mama pandora daily about my hairstyle - i wore a uniform even then - even though it always ended up including bright ribbons and/or barrettes (thanks mom).
i remember scolding her for wearing shoulder pads, which i hated with a passion. i remember riding to school in the backseat singing along to "i will always love you" at the height of its popularity. my brothers, aged eight and thirteen, would always change her adult contemporary radio station to something a bit more youthful, and that's how i began my hip-hop journey.
mtv was on fairly often in the house, and i can still recall mama pandora, tsk-tsking about the hypersexualized music videos while i developed a deep appreciation for the body-conscious, boldly colored ensembles on display. i harbored this appreciation over time, and from about sixth grade to junior year, it erupted into a full-fledged obsession. though i always maintained my love for all music and fashion - this is the same period in which i really started fawning over the fifties - i remember longing for fitted caps and a jersey dress (shudder). my passion culminated in seriously contemplating becoming a b-girl with megan, and then my affinity came to an abrupt halt.
all of a sudden, hip-hop just wasn't doing it for me anymore. kanye was a beacon of light at that point, but jay-z had supposedly retired, and i felt that i'd successfully feigned enthusiasm for the fabolouses and trillvilles of the world for long enough. i moved on, knowing that i wanted something else from hip-hop, but not knowing exactly what. since then, i've come to something of a conclusion:
i've never cared about street cred or battle wounds. keep the guns at home. i want to know about the kicks you've got on, and better yet, the kicks you'll be wearing tomorrow. black is safe. i want clashing prints and bright bright brights or i've already lost interest. i want caps to the side and copious amounts of gold. and the best part about this rediscovery of 1990's glory is that the revival is occurring all over the place, and not only just in my head. there's a crop of fresh females that totally embody this fierce boldness that i love, and though i've written about a few of them before, i never noticed the pattern. in any case, they're always getting more and more exposure, which means that maybe we'll see nikes and rope chains in the pages of vogue sometime soon (hah).
i've been hooked on m.i.a. since i saw her perform in brooklyn on late-night new york public television.
her video for 'galang'
was nothing less than an art and fashion showcase, and she's never failed to deliver since. i can never praise kid sister enough, and my love for her hit unprecedented levels once i saw her perform live (i'd dig up pictures of both ladies' concerts, but alas, my photos are all gone). "downtown's sweetheart" va$htie is the co-founder of the
1992 party
, which i somehow managed to miss all summer long, though i still keep obsessive tabs on the upcoming dates, ready to jump on the fun wah when the time is right. hailing from varied corners of the globe, these women are like fly girls resurrected, and i can't get enough of them right now. which leads me, of course, to the topic of achieving this look..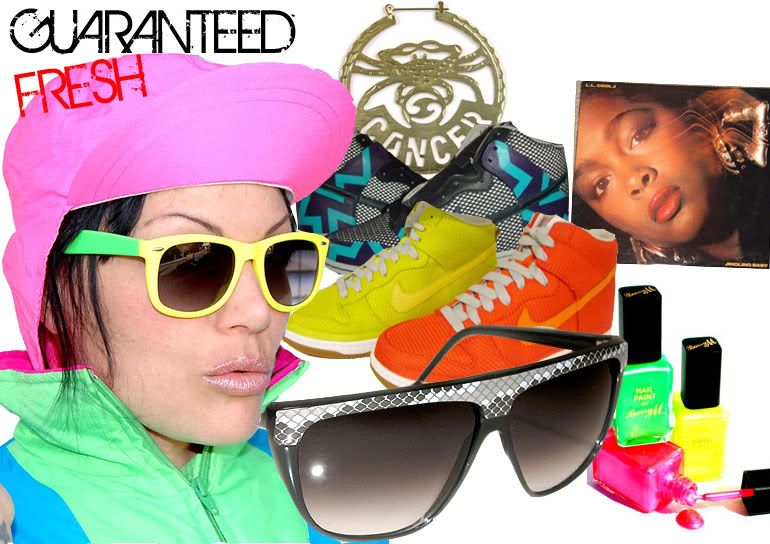 i'm sad to report that while i had a pair of sunglasses similar to those neon wayfarer-ish beauties above, wear and tear broke them down before i even made it to kindergarten, let alone college. on the other hand, i'm delighted to report that i currently own a similar pair of black and white snakeskin shades, except thicker and more badass, courtesy of - get this - papa pandora, circa 1993. i've been frequenting
this site
in my search for the perfect pair of sneakers, reading up on limited edition jordans, air force ones, and converses, etc. i spent last year converting my guy friends to sneaker loving, but never got in on the fun myself. after that, a pair of interesting doorknockers and bright nail polish would satisfy my desire to be dope. it's important to me that i don't look like i'm wearing a costume (though i have dressed similarly for costumes on several occasions - pictures coming soon), instead incorporating punchy elements into my own daily style. until then, my quest for fresh continues.. onwards!
edit: why do i always forget to include a song of the day?
here
it is, an ode to my year of birth, courtesy of a couple of guys holding down the male end of the 90's revival.
[photo credits: google image search(1, 2, 3, 4, 5), va$htie's myspace, flynn & o'hara, 1992's myspace, m.i.a., m.i.a.'s myspace, smash vintage sunglasses, myairshoes.com, girlprops, wikipedia]