first off, i want to thank all of the sartorial sherlocks who were kind enough to help me out in my search for the glasses in the post below. all of your suggestions have been a great help, and of course, i'll update if and when i find a similar pair.

this past week, i surprised myself with just how responsible i could be. while the blog took a bit of a backseat, i found myself actually completing all of my readings for class, picking up extra hours at work, tending to life's odds and ends which usually fall by the wayside, and refraining from frivolous purchases. still, this last feat wasn't accomplished for lack of desire. i've been affected by an acute hankering for consumption lately, and probably the only thing that kept me from emptying my bank account on some bauble or other was the fact that i've simply grown tired of harvard square's offerings: urban outfitters, the gap, a vintage store, american apparel, and a few other boutiques. a solid line-up, but after shopping in the same spots for two and a half years, i'm bored. i'm in desperate need of items that i won't see twenty girls on campus wearing minutes after i've bought them. oh, and speaking of desperation, i'm also in desperate need of the springtime, punxsutawney phil be damned. on that note, let's plan ahead, shall we?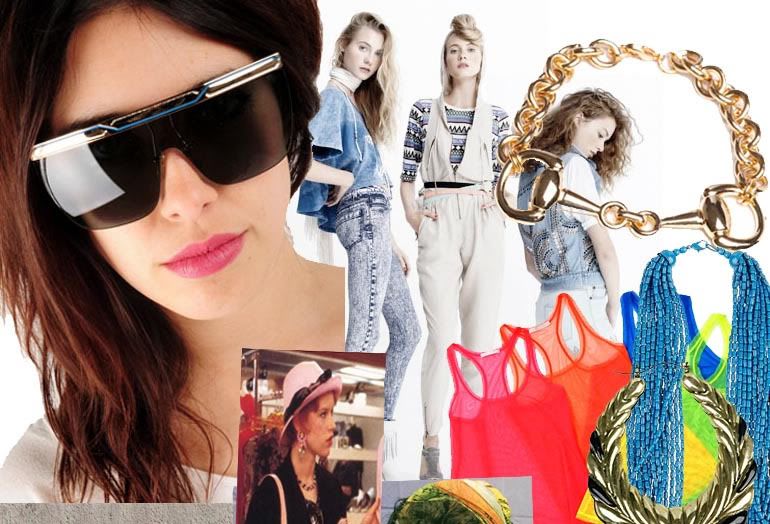 it seems like everyone i know has gone to africa in the past year, and i'm jealous. the serengeti sunset is nowhere on my horizon, but who says i can't channel a little tribal flair into my wardrobe summer, even if i am only exploring the concrete jungle? i'm thinking bold, chunky jewelry stacked and layered to excess, paired with neons, neutrals, and every pattern under the sun. it's definitely a bit of a hodgepodge, but the minimalist in me is looking for a vacation, and my love for pop cultural history is drawing me to that weird 1980's moment when 'ethnic' suddenly equaled chic. throw in the most obnoxious sunnies i can find and a couple of hats, and i'm good to go.

p.s.: oh, and speaking of ethnicities and all that, can we talk for a minute about this feedjit gadget that is now at the bottom right corner of the page? not only am i completely obsessed with it, i'm so tickled at the far-flung places pandora's closet visitors are coming from: ireland, china, singapore, spain, bulgaria, malaysia, croatia, new jersey?! now that i know you're all stopping by, what say we get a nice international comment thread going, ay?
edit: oh hello,
lover
.