once upon a time, i expressed surprise at the realization that despite my history of avoiding frills and ruffles, i'd suddenly developed an affinity for menswear. since then, i've certainly embraced my masculine side via tons of loose tees, rumpled button-downs with rolled up sleeves, bulky jackets, and even a pair or two of men's jeans, prone to being paired with heels, cuffs rolled haphazardly.
in new york this past weekend, i set out with the intention of refraining from excessive shopping and succeeded for the most part, but as i unpacked today i was tickled to realize that nearly everything i purchased was meant to be worn by a man. see below for more evidence.
on day one, we were headed downtown to pound some east village pavement when i suggested we stop off at the j. crew sample sale for sophie, who has an interview with an investment firm coming up soon. after waiting on line and dealing with an extremely grumpy doorman, we made it upstairs to the sale. i've never gotten anything from j. crew in my life, but that's not to say i don't enjoy perusing the prim and simple pieces in their catalog from time to time. i set about scanning the room for a deal. the women's pieces were pretty, but a strict policy against trying on garments left me wary of dropping my nonrefundable dollars on a lemony sundress. wandering over to the other side of the room, i found a veritable promised land of beautiful knits and cashmeres in comfortably large men's sizes and knew i had found what i was looking for. it also didn't hurt that fifty bucks became twenty-five at the cashier.
day two: picture it - williamsburg, brooklyn. a windy afternoon. the five of us are strolling along bedford, and i've got my eye out for interesting boutiques while everyone else is dying for a place to sit down with a hot drink. i drag them into jumelle and buffalo exchange before arriving at houndstooth. i remember i'd been there with taylor about a year or two ago, but at the time, i probably left once i'd realized the store only contained menswear. this time, i dutifully scour the racks, reminding myself that i don't need an eighty dollar flannel, no matter how soft to the touch it is. i score on the coat rack with this wool number from the fifties: it's incredibly warm and has a perfect slouchy fit. the friendly salesperson with the fantastic fedora comments on my j.crew sweater, and i spread the sample sale love, passing him the address.
day three: sarah is heading out in mere hours, and we haven't decided on what to get her as a going-away gift. she's been waiting for us in union square for over an hour, and we're frantically brainstorming on the r train. we decide to give her little bits of the usa to hold on to while in a foreign land, via apple pies from mcdonald's and an obama tee. we rush to the urban outfitters near dylan's candy bar and do a quick assessment. as usual, it's the men's section that has what we're looking for, and i try to convince my companions that a medium or small will look just lovely on sarah, though my attention is diverted by an icy blue delight. a vintage poster for one of my favorite movies, the endless summer, is hanging nonchalantly on the broad shoulders of a mannequin, and i know i have to make it mine. i send my friends up to pay for sarah's tee, while i attack the pile in search of a small. at the cashier, someone compliments my new jacket, and i attempt to perpetuate my good shopping karma by giving her houndstooth's business card.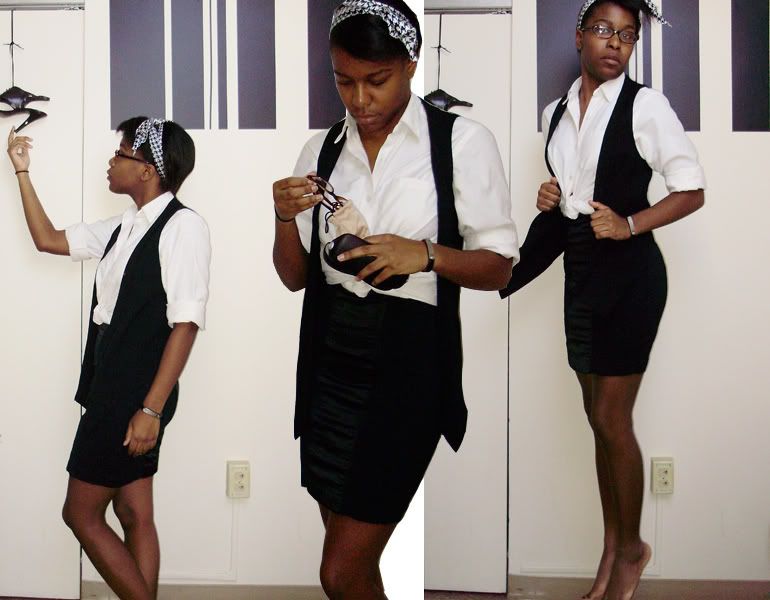 day four: we're catching a six o' clock bus, so i suggest a lazy museum tour, forgetting that a bunch of museums are closed on mondays. we continue down fifth and begin a museum tour of a different sort, taking in the superb craftsmanship of designers both stateside and abroad at bergdorf, bendel, and the like. the people-watching opportunities are also prime, as women in atrocious furs with bandaged noses snatch up jimmy choos and louboutins with blood-red talons. i make my routine book purchase at bendel's, and float back down to reality at zara. surprisingly, nothing in the men's section moves me, but this vest offers a feminine take on a men's classic piece, and i'm sold. on the way home later, i reflect on the weekend's buys and make a mental note to check up on the men's fashion week collections.