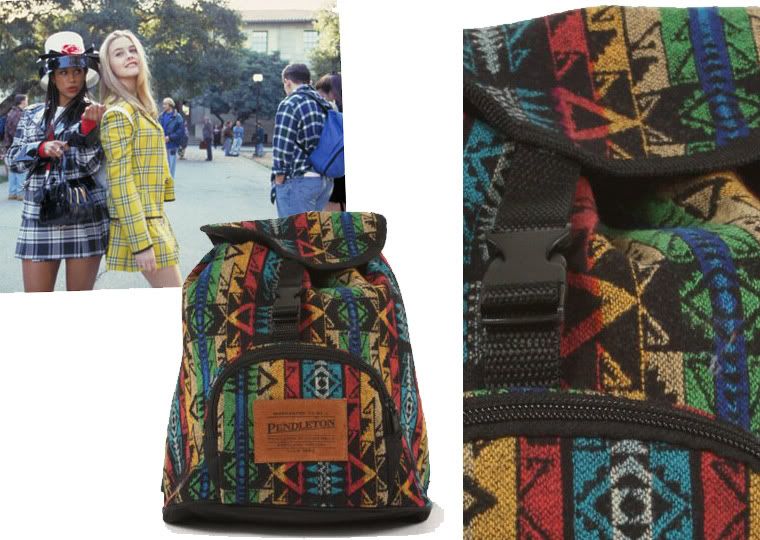 picture it: a quiet saturday evening in the room. i'm poking around the online ceremony online store, and experiencing thrills and excitement at every click. to be honest, i've already browsed the site several times, but i keep coming back to gaze at this pendleton backpack. i depend on my trusty, understated jansport whenever i can't stuff my things into a nicer tote, but this could redefine the very foundations on which i judge backpacks. the print is so bold, and the pattern embodies my spring fashion agenda to a tee. i picture myself overstuffing it with my mac, literary anthologies and such, and proudly hauling it across campus, bulky and beautiful.

and the next thing you know, i've bought it. i tell myself that this shopping vice of mine needs to be reined in, but look forward to its arrival nonetheless. except that when it arrives, it's not at all what i expected - at less than half the size i imagined, i can barely fit a notebook in there, let alone my macbook, which brings me to my current dilemma. i've got about fourteen days to return it, but what do you guys think? could i possibly make this miniature bag work to my advantage, maybe like a nineties-esque alternative to a purse, to be paired with rompers, gold-rimmed sunnies, and other similarly bold pieces? all opinions appreciated.

*now that i think about it, this post's title is kind of twofold, no? as in, i have only two weeks to decide if i want this bag or not, but also time sensitive in that this material good might only have been a viable and stylish option before the year 1997.
.