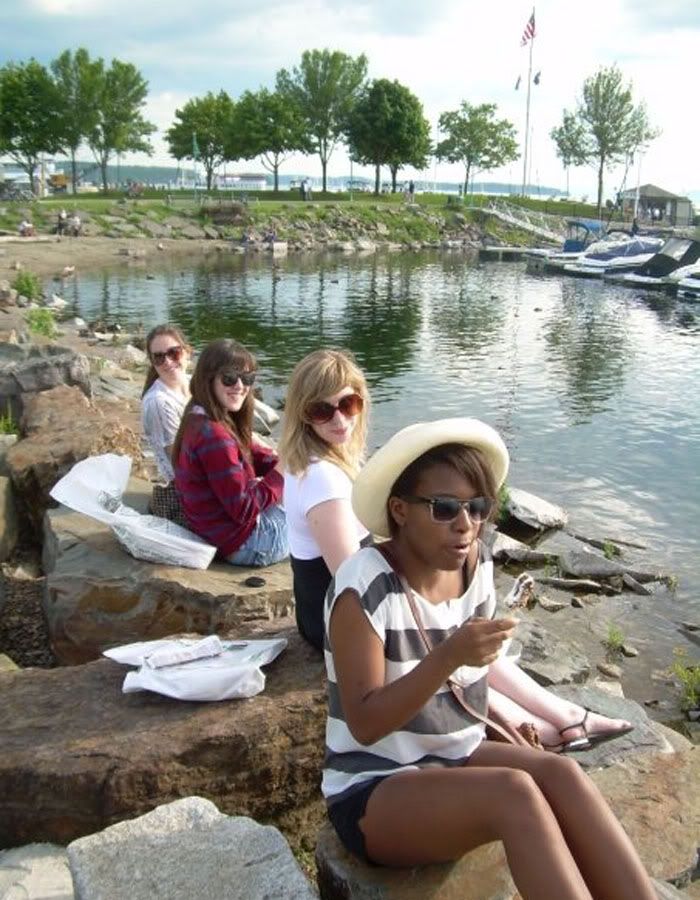 i hardly think i need to inform you guys that bob dylan was phenomenal. i don't think i've ever expressed quite accurately just how much his music means to me, but suffice to say, when the lights came on and the rain cleared just long enough to catch a clear glimpse of that crisp suit, i broke down into a sobbing, joyous mess, bluberring and deliriously laughing my way through "leopard skin pill-box hat." i got it together long enough to laugh, sing, and dance my way through a nearly two-hour long, ultra high-energy set, despite a renewed rain (i had a raincoat with me, but i was too gleefully occupied to remember to put it on). when he finally turned to the crowd and addressed us with a buoyant, gravelly "heh-lo, friends!" i was positive that i was the happiest i'd ever been.. and then he returned for an encore, sat down at the organ, and began "like a rolling stone," followed by "all along the watchtower." cue second round of happy tears, and with that, the best night my life so far, ladies and gentlemen.*

with all of that adoration of awe, of course i committed blogger cardinal sin and neglected to take pictures, but i made up for it the next day while we explored burlington
.
"

you don't understand. rox is trying to

be

molly ringwald right now.

" -sara, in response to meg's inquiries as to why i was on a desperate search for a hat.
maybe it was the abundance of young folk roaming the streets, or maybe the sweet burgundy stationwagon we were rolling around town in, but i kept getting this vibe that i'd stepped back into time and into a college town circa 1994. the more i thought about it, the more i convinced myself that my friends and i fit the part of an old-school collegiate motley crew, what with meg in her embroidered brown dress and birkenstocks, and sara and her long hair, preppy oversized rugby and cutoffs. the only way i could have looked more appropriate for my own mental scenario was if my shirt happened to be a crop top, but i sealed the deal with the best six bucks i've ever spent, snagging this prairie-ready hat at a sweet little secondhand shop called dirt chic. i've been doubting my ability to pull off hats like this for a while with my short hair, but i'm totally loving the look. after all, if molly can do it, so can i.. 

other highlights: snagging a 1967 copy of big brother & the holding company's "cheap thrills," my killer road trip playlist, pigging out all weekend long on copious amounts of ice cream, trucker stops, and real railroad car diners, browsing the sweetest record shop/vintage store ever, scoring bits of vintage swag for my circa 1966-themed bedroom this year, "take my breath away" coming on the second we hit a spread of misty mountaintops, laying claim to tons of unattractive men just for kicks, total culture shock at essex junction with thousands of elderly hicks, blowing sara away with my mastery of one country song, following a rainbow on the ride home, and something akin to a religious experience.

*i don't mean to leave out willie nelson and john mellencamp, who were also beyond amazing.
[image credit: the lovely meaghan lyons]