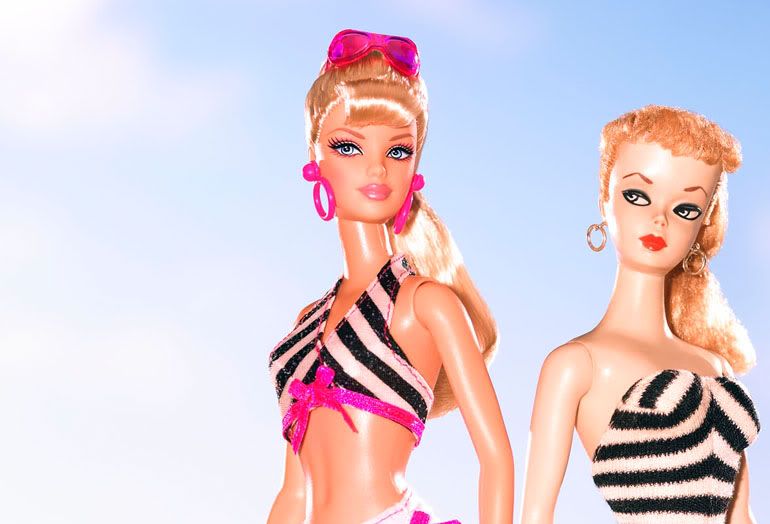 you'd think eighteen years would be enough time for me to grow out of my barbie habit, but when i stumbled upon a
treasure trove
of vintage and contemporary commercials and promotional material, it was all i could do to stifle the giddy squeal rising up inside of me. after watching nearly every one, i found it tough to pick a favorite, so i pulled a couple of gems from each decade. equal parts hilarious and fantastic, i'd be lying if i said i'm not still harboring an urge to hit the ebay circuit and start snapping up some of these plastic stunners
.
1962: okay, these outfits are actually all pretty killer, but i draw the line at cuffing my chin with glee and using the word "swell." chill out, girl.
1967: the trade-in offer (and that overenthused guy's rapping) is pretty sweet, but i don't think i would have been able to give up one of my beloved dolls to get a new one.. especially not to that creepy mechanical shopkeeper. and is that marcia brady? jan really couldn't catch a break..
1971: wait - orange skin, feather-thin arched brows, and obnoxiously large sunglasses? a couple of wardrobe tweaks and we're looking at jersey shore barbie here.
1973: so mustache = bad guy, but sideburns = hero. this must be why i have such mixed feelings about terry richardson. by the way, what is this doll's hair made out of, anyway? steel wool?
1984: also known as

working girl

barbie and

bonfire of the vanities

ken.
1988: very
glamourai
, no? but it seems sort of awkward to be cozying up to jungle animals while pretending to wear their skins. just sayin'.
1992: wow. well, fly girl threads aside, i really can't take this seriously until she works on those moves.. the spastic shuffle just isn't gonna cut it.
1992: and moving right along from the streets to the trailer park, we have the best-selling barbie of all-time. seriously - more than ten million people bought this very doll. no, i can't figure it out either.