well, the good news is i got through last week unscathed. the bad news is that there's still another week and a half of heavy duty work to come. luckily, there's a sunbeam at the end of tunnel, and it's hovering just above the great state of florida, where i'll be heading for spring break in just over two weeks.
when it comes to traveling, it's always a thrill to dive headfirst into the sights, smells, and quirks of a completely new place, but i reserve a special sort of well-worn affection for locales that i've visited once or thrice before. i've been to florida so many times i've lost count, but instead of indulging in the bustling tourism of orlando or the semi-dilapidated art deco decadence of miami, i'll be heading back to st. petersburg, a spot i've been hankering to return to since the last time i left
.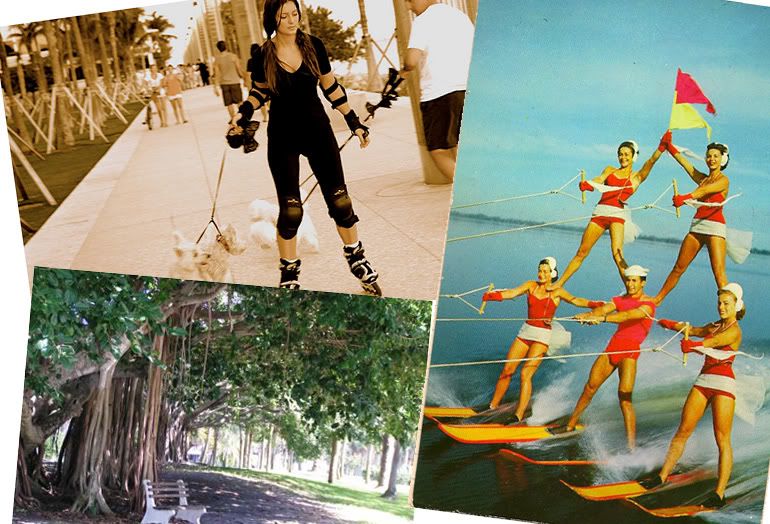 "stop jumpin' around, you'll run out of breath, why don't you sit back and calm yourself?"
st. pete doesn't offer too much in the way of high-octane entertainment, but what it lacks in roller coasters and fireworks, it certainly makes up for with scenery and charm. my last visit felt like one extended lazy sunday, with long strolls along the boardwalk, languorous museum outings, and daily trips to a gelato shop so divine that i couldn't find a better one during all my time in europe.
if this all sounds like a senior citizen's version of heaven, that's because it pretty much is. the elderly population of st. pete is booming to say the least, but oddly enough, that's where i'm drawing inspiration from as i put together my travel wardrobe. i already know that st. pete living is easy, so i'm aiming to dress the part.
i wanted a single piece to function as a layering canvas, but didn't really feel like rustling up a flattering jumpsuit, so i opted for this simple black maxi dress instead. i followed up that purchase with a black turban (my fifth and final purchase for the month of february) and i admit it's all a bit reminiscent of a certain gushing missive i once dashed off about carmen miranda, but i'm actually going for what might happen if katharine hepburn, dorothy zbornak, and janis joplin had to share closet space.
i'm thinking uninterrupted ankle-length silhouettes, billowy tops, boyish vests, and striking accessories, perfect for everything from self-administered pedicures by the pool to dinners at slightly tacky seaside restos. just a couple more essential pieces to get a hold

of, fourteen more days and i'm there.
p.s. any suggestions on where i can get my hands on a flattering one-piece swimsuit?
[via google, flickr, babooshka boutique, asos]