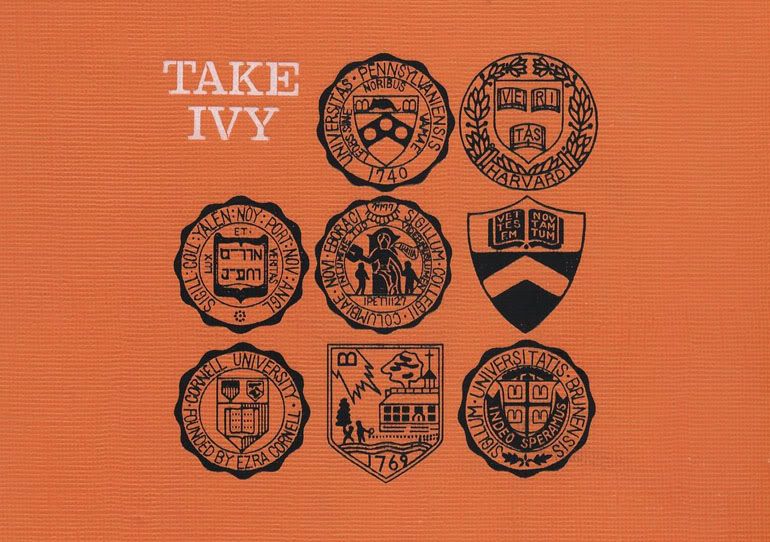 when i foresaw the nostalgia that's bound to engulf my memories of higher education in a rose-tinted haze over the years, i forgot to mention the essential first step of the process - the brief but heady rush of sentimentality that accompanies the closing of nearly every chapter of my life.

i'm talking about those premeditated, self-consciously sappy bonding sessions and the last-ditch attempts to document the final moments of an experience with a couple hundred photographs. i managed to stay fairly aloof during these last opportunities for wistful revelry - after all, i'm not planning to lose contact with anyone who's meant something to me during these past few years and all those senior events were getting to be pretty damn expensive - but i knew it'd be difficult to leave campus without snagging a bit of sartorial nostalgia.

the aesthete in me would like to pretend that i spent my time in the ivy league surrounded by people as enthusiastic about cultivating their personal appearances as they were about their scholarly endeavors, but the inconvenient truth is that sweats, uggs, leggings, flip-flops, and similar atrocities dominated the yard on a daily basis. even those who felt inclined to channel a classic prep vibe often botched the effort by either a) opting for a bastardized version of the look, complete with prominent logos and a horrific fit, or b) being an general douchebag. of course, there were more than a couple of my classmates who truly mastered their own style across a wide spectrum of genres, and whenever they crossed my path on the way to class, my eyes would silently thank them for rising above the frumpy fray.



in any case, on move-out day i packed up my things, stuffed it all into the back of my parents' rental truck and promptly requested that they take me to the coop. i wasn't sure exactly what i was looking for - since i'm not a huge fan of sweatpants with my alma mater emblazoned down the left leg, i'd become accustomed to avoiding the store's apparel section altogether. besides, i'd already picked up an alumni canvas and leather duffel a few days earlier and wasn't interested in spending too much more money on memorabilia.

and then i spied this gray and crimson raglan - casual with vintage appeal, i'm currently using it as a nightshirt, but i can also see it tucked into '70s style high-waisted shorts and chunky platforms like a collegiate jodie foster in taxi driver...or for a more traditional approach, maybe paired with a creamy cableknit cardigan when i head back to campus to see the game - wait, too soon?

[via drinkin' and dronin']