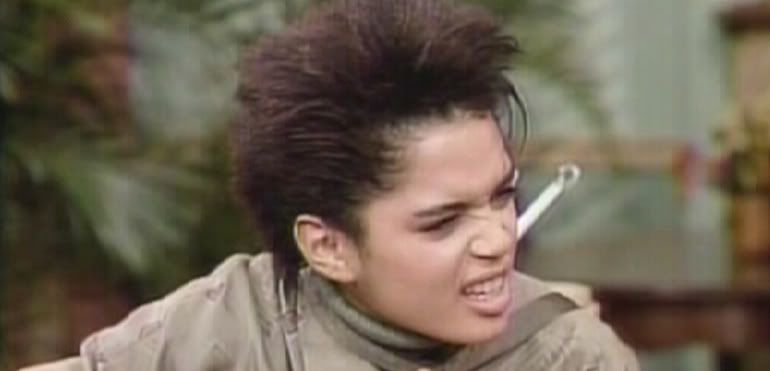 while i'd need a bit more time to sort through the countless hours of television that i either rotted or enriched my mind with during my childhood - depends on how you look at it - i'm willing to bet that this is one of best opening sequences ever. i actually keep this song in periodic rotation on my itunes. best elevator music i've ever heard too, cliff!

(the variety of knitwear on display in this clip is phenomenal.)
while a good portion of the series was a bit too twee for me, i'm still incredibly proud of the fact that i own nearly the same pants that denise is rocking in this very sequence, mostly because denise was definitely the edgiest part of the show. i found them by chance at a sweet little vintage shop in st. pete - coincidence, not channeling - but i have been actively coveting lisa bonet's locks lately. the seed of the idea was planted over the summer when i began spotting lizzy okpo of opening ceremony on the staten island ferry. call me a fashion fiend if you like, but even if i weren't oc-obsessed, the girl is stunning and nearly impossible to miss. anyway, i never got up the nerve to say anything to her, but her style and presence is phenomenal and i found myself creepily checking her out from afar like a starstruck fangirl and marveling at her knee-length braids for so long that it was only a matter of time until i started wanting them for myself.

unfortunately, the fact of the matter is that i have pretty short hair to begin with and i've been known to beg for freedom after just a few weeks wearing less intense forms of hair extensions in the past, so the chances of this particular look coming to fruition might have to wait. luckily, pretty much every other aspect of lisa bonet's style is just as desirable, so i can always keep myself busy with that.

in other news, raven-symone was mind-bogglingly adorable. i mean, look at her.

p.s.: i'm going to get my chance to meet her after all - we're shooting lizzy and her sister, darlene, today for an upcoming slu feature!


[via inside the mind of suz]